Getting Rid Of Pests In Auburn, KS Since 1947
Auburn is a small city located in Shawnee County, KS; it offers its residents a quiet, laid-back place to live, play, and raise a family. Most residents commute back and forth to the areas larger surrounding cities including Topeka for work. Auburn is home to affordable neighborhoods and several local businesses including a delicious pizza parlor, yum! To help keep your small city home or business free of the pests that also call Auburn home, trust the local pest control experts at Schendel Pest Services. We understand the local pest pressures that our customers face and how to solve them in an efficient and cost-effective manner. Contact us today to learn more about any of our pest control services, and how they can benefit your Auburn home or business!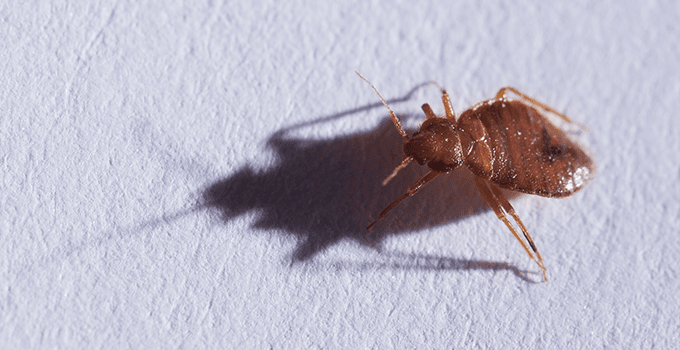 Identifying And Controlling Bed Bugs In Auburn, Kansas
We all hear a lot about bed bugs, how they are everywhere, how you constantly have to be on the lookout for them, and how to protect yourself from becoming their next meal. But, do you truly know what a bed bug looks like, if you had to pick them out a line-up, could you?
The most important way to protect yourself and home from bed bugs is to have a clear understanding of what a bed bug looks like! Adult bed bugs are the stage that is most easily seen by the naked eye and that is most easily identifiable. Adults grow to about 3/16th of an inch in length and are a flat-oval shape (think apple seed), have six legs, and are wingless. Before having a blood meal they are brownish-red in color, after feeding they will turn redder in color. Both the egg and nymph stage are very small and very difficult to discover unless you are a trained professional. Their eggs are only about 1mm in size and are whitish in color; their nymphs are no larger than a pinhead.
If you see or just think you see adult bed bugs in your Auburn home or business it is important to contact the bed bug professionals at Schendel Pest Services and get the immediate help you need to completely eliminate them from your property. Contact us today to learn more about our highly effective bed bug services!
Residential Pest Control In Auburn, KS
At Schendel, we provide the residential pest control programs you need to have the peace of mind knowing that your Auburn home will become and remain pest free for the entire year! By implementing our Premium Care program, common household insects and rodents won't have the ability to infiltrate and cause damage to your home. The Premium Care program provides you with an in-depth initial interior and exterior service performed by one of our trained, friendly professionals, followed-up by quarterly pest control visits to offer continuous protection for your home. This program also includes our PestZero Guarantee which states that if treatment is needed between service visits we will come back and do so at no additional charge to you! For a more comprehensive home pest control program we offer our Premium Care Plus program, it provides all the benefits of our Premium Care program plus the added benefit of termite protection. Other services that we offer to keep your home a pest free zone include:
Commercial Pest Control In Auburn, KS
To protect your Auburn, KS business from being damaged by pests, trust the commercial pest control experts and our industry leading solutions at Schendel Pest Services. We will help you protect your facility, customers, employees, products, and reputation within the community from destructive and disease spreading pests. All of our commercial pest control programs have been developed and overseen by our staff entomologists and are tailored to your business's industry. Our Total Quality Assured program provides customized pest control treatments that meet all regulatory requirements and will surpass your expectations.
Other services we offer to protect Auburn commercial businesses from pests include: pest bird control, bed bug services, termite control, fumigation, mole solutions, vegetation control, organic pest management, and LEED certification. Contact us today to learn more about partnering with Schendel to protect your Auburn business from pests!
Prevention Tips From The Termite Control Experts At Schendel
The termite control professionals at Schendel want to provide you with some easy tips to help make sure your Auburn property becomes less attractive to the highly destructive termite! These wood eating pests have the ability to cause billions of dollars' worth of damages to properties all across the country each year, don't become part of that statistic.
Termite Prevention Tips:
Termites require a very moist environment to thrive- reduce excess moisture around your home by repairing leaking fixtures, faucets, and pipes
Install air conditioning units and/or dehumidifiers to reduce humidity levels in your home
Make sure that gutters are in good working order and direct water away from your house
Replace water damaged wood found both inside and outside your home
Maintain at least an 18-inch gap between soil and any wood portions of your home
Store firewood at least 20 feet away from the house
Replace older, damaged weather stripping found around basement foundation and windows
Remove piles of debris, leaves, and grass; along with fallen trees and rotting stumps from your property
To ensure that your Auburn home and property is free of damaging termites make sure to schedule a free home inspection today; or contact us to learn more about our effective termite control solutions!