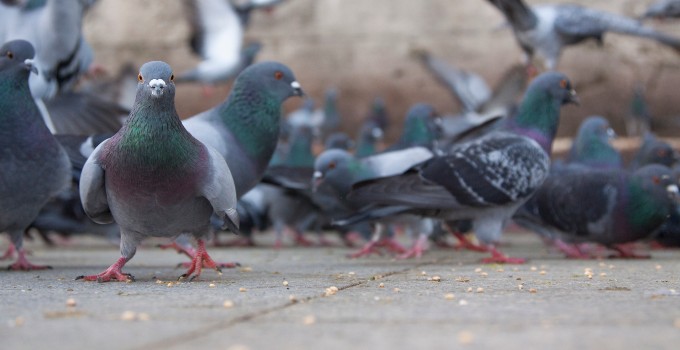 Birds belong outside, but what do you do if you find them inside and or nesting on your commercial property? We'll cover how to prevent birds from nesting indoors, and talk about the damage nesting birds can cause to Topeka buildings. After reading these tips, you'll be able to say good-bye to the filthy stains that nuisance bids leave on your commercial properties and how to put an end to expensive damage control repairs.
Common Nuisance Birds in Topeka
Topeka is full of birds, and nesting ones can be incredibly frustrating for property managers to handle. Below are some common birds that you may find nesting in your commercial property's roof and attic.
Flickers
Pigeons
Sparrows
Swallows
Geese
Crows
Grackles
Woodpeckers
Starlings
While these are the most common types of nuisance birds, plenty of other species may have taken up residency in your commercial building or on your property. The good news is that you can use the same strategies to prevent these birds from nesting, and we'll be sharing these with you.
Is bird nesting dangerous for my property?
Birds that flock inside and around office buildings, warehouses, rental properties, and other commercial buildings can carry diseases. Their slippery droppings can create liability issues if someone slips and falls. Additionally, keeping commercial spaces clean is both time-consuming and costly.
Nesting birds in your building is never a good sign. So, you need to know how to identify what attracts birds to commercial buildings and how to prevent them.
What attracts birds to commercial buildings?
Birds are attracted to commercial buildings because they often have attractive, safe nesting areas with high beams and crevices where they can build their nests. It's common to find birds nesting in roofs and attics.
If found inside your commercial building, nesting birds can cause you to spend thousands of dollars in damage to ventilation systems, machinery, and the roof itself.
Bird Prevention Tips
There are many tactics you can implement to prevent birds from nesting in and on your Topeka property. Below are some humane options for keeping birds away from your commercial buildings.
Close off any gaps are the exterior of your building. All holes should be sealed that are one inch or larger in diameter.
Secure wire barriers around HVAC units and any other high places with ledges where birds could build a nest.
Place plastic hawks on your building to deter nuisance birds.
Contact the professionals at Schendel, and our friendly team will offer you professional commercial bird control services.
Remember, these strategies are most effective when you are trying to prevent birds from nesting on your building. If your commercial property is already infested with birds, you'll likely need the support of a professional bird and wildlife control company.
How can Schendel Pest Services prevent birds from nesting on my building?
Nesting birds destroy property, can carry diseases, and cost you loads of money. Don't waste your precious time trying to remove pesky birds from your Topeka commercial property. Contact Schendel today for a consultation with our expert team, and we'll put an end to your bird nesting problem.