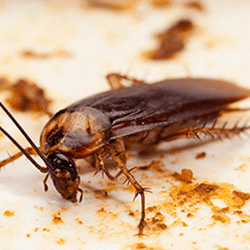 Are There Home Remedies For Cockroaches?
6/20/2017
Type in "home remedies for cockroaches" and you are going to pull up pages of over-the-counter products as well as a slew of homeopathic solutions that seem quite reasonable for dealing with a cockroach infestation. As any home or business owner who has suffered a cockroach infestation can probably tell you, these methods are typically all talk and very little action when it comes to eliminating the cockroach and a few thousand of his closest friends.
The cockroach is attracted to our homes for a couple of reasons; but topping the list are easy access to a good meal and a promise of year-round, climate-controlled shelter. But, a cockroach infestation is a significant problem in any household. They have voracious appetites; and as soon as the lights go out, they come out of their hiding spots from under the cupboards, stove, or fridge to get some of their favorite foods, which include pretty much anything that they can get into. Cockroaches spread disease and bacteria across any surface that they touch including any dry goods on your pantry shelf that might have been left stored in the bag they came in. The cockroach is responsible for creating outbreaks of salmonella, dysentery, and staph infection, to name a few. The waste that cockroaches leave behind has also been known to get in the air and cause severe asthma-like symptoms, especially in children.
There are people out there right now scouring the internet for methods of pest control for cockroaches and spending their hard-earned money trying every product and remedy they can find. The problem is, very few of these have a lasting impact on the cockroach population. Cockroaches are hardy pests to be saddled with; and while over-the-counter products might get rid of a few, it just isn't possible for these products to eliminate the entire infestation. They simply cannot reach deep inside your wall voids where the majority of the roach colony hangs out. And, because of the sheer numbers in the colony and the speed that a few roaches can become a few hundred roaches, your DIY product simply cannot keep up. While you are trying these methods out, these disease-carrying pests are still spreading their bacteria through the kitchen creating an unsafe environment for your family.
Make sure that your roach problem is taken care of correctly the first time. Give Schendel Pest Services a call and talk to one of our trained professionals. We successfully help folks just like you with their pest control problems every single day. Our staff can be on their way to you in a matter of hours to help you to figure out the source of your roach problem and to quickly eliminate it completely. Don't waste another dime on products that do not work allowing the roaches to spread even more bacteria in your home. For residential pest control solutions that work, give us a call today.