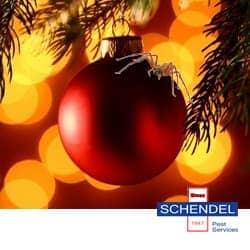 Avoid Pest Problems This Holiday Season
12/1/2011
So Thanksgiving has come and gone, Black Friday is over and you have finally recuperated enough to make the annual trek up to the attic or out to the depths of your garage to pull out the dusty, old boxes of holiday decorations. In Kansas City, Topeka and all across Kansas and the United States, this is quite possibly the "most wonderful time of year" and although most of the holiday season is filled with laughter and good cheer, blood-curdling screams can be heard from miles away if you are not careful when you unpack your holiday decorations. No, we are not talking about the sudden discovery of a photo of Cousin Stu after too much eggnog; we are talking about the unexpected sight of the Christmas mouse or other insects or rodents who have made a home in those old boxes. To help you unpack your holiday decorations and keep your ears fully functional, Schendel Pest Services would like to offer homeowners some tips to help keep your holidays pest-free.
Unpacking Holiday Decorations: Decorations that been packed away since last holiday season, could very well have become the most comfy accommodations for some very unwanted guests. Boxes of decorations, including artificial Christmas trees, that may have been packed away in boxes, especially cardboard, and then stored in the garage or attic, may contain mice, spiders, silverfish, carpet beetles and clothes moths, just to name a few. Weather-permitting, unpack these boxes outdoors. Pay close attention to the folds of fabric items, such as tree shirts or table runners. Shake out your artificial tree and inspect other items for signs of damage. By doing this outdoors, you reduce your risk of introducing these pests into your living areas. Before repacking decorations, once the holidays are over, consider investing in heavy duty, plastic totes, with tightly fitting lids. They are available in a variety of sizes and are generally pest-proof.
"Real" Holiday Greenery: Although the ultimate symbol of the holiday season, "real" trees, wreaths and other green items that you display in your home should be inspected for pests such as spiders and other insects before they are carried indoors. Also be on the lookout for spider webs and bird nests.
Cozy Night By The Fireplace: If after a long day of shopping, wrapping, baking and cleaning, you enjoy nothing more than to relax by the fire, before you bring the yuletide logs indoors, make sure you check those logs for pests commonly found on them. Spiders, termites, carpenter ants and of course mice, love the protection a neatly stacked wood pile can provide during the winter months, so to prevent them from moving in, store firewood on concrete blocks or poles to keep them well off the ground and keep the wood piles at least 20 feet from your home.
Most of the pests commonly found in holiday decorations are nothing more than a nuisance and can easily be squished, vacuumed or swept away, but if pests insist on sticking around your celebrations this holiday season, Schendel Pest Services is always just a click or phone call away. And to the folks of Kansas City, Lawrence and throughout Kansas, Oklahoma, Arizona, Arkansas and Missouri, we would like to wish you a warm, festive, pest-free holiday season and we look forward to serving you in 2012.