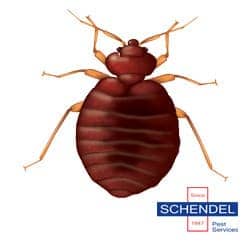 Bed Bug Basics
11/13/2013
Bed bugs are back from decades of dormancy and they have not returned quietly! Googling "Bed bugs" will bring back more than 31 million results, listing medical sites, university extension articles, pest control company websites and even a site from the center for disease control. While these pests seem to be found in every state in the nation, problems with these blood-sucking pests are on the rise throughout the Midwest, including right here in Kansas City and Topeka.
Bed bugs are pests that affect everyone! They are not a pest for the lower income brackets and they are not limited to homes alone; they can be found in health care facilities, universities, libraries, apartment complexes, retail environments and many other places. Luckily for Schendel's customers, we were the first pest management company in the Midwest to invest in highly effective (and eco-friendly!) heat treatment units for bed bug treatment. Our heat units use the latest in thermal remediation technology to achieve complete bed bug extermination in an enclosed environment, killing all life stages of bed bugs.
This cutting edge treatment for bed bugs will eliminate bed bugs quickly and safely, allowing you to re-enter your home or business the very same day. Our treatments often take just one day, so you know that your apartment, hotel, dormitory or retail space will be bed bug free very quickly, saving you both time and money. We also offer highly effective canine bed bug inspections to help locate even the tiniest bed bug infestation. Our expertly trained bed bug dogs can sniff out bed bugs far better than any technician, allowing us to locate infestations inside walls and even furniture. For more information on our Kansas City pest control services to eliminate bed bugs, contact us today! We would be happy to discuss our services with you and set up your first appointment.
By the way, that Google "bed bug" search we mentioned earlier turned up a pretty amazing video from the University of Kentucky showing a bed bug feeding. Here is a link to the video, but be warned – one viewing and it may be hard to "sleep tight"!
http://www.youtube.com/watch?v=VvnxqeTSq_Q
This blog was originally published on January 21, 2010, but we have updated it to reflect the most recent and accurate information available in helping you combat frustrating bed bug problems.