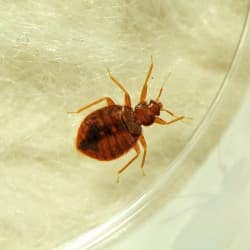 Bed Bug Nightmares
3/8/2016
Bed bugs, are still a problem for homeowners all across the country; and for many people bed bugs are more than a pest, they are a nightmare. And if you think about it, 'nightmare' is a very accurate description-waking up in the morning with mysterious bites, knowing that you have unwanted creatures in your home but can't find them or get rid of them, certainly can seem like a nightmare. But, we want to assure you that if bed bugs ever do make their way into your Topeka home, the bed bug experts here at Schendel Pest Services can safely and completely get rid of them and quickly stop your nightmares.
There have been documented cases of people going mad from a bed bug infestation and going to extreme measures to get rid of them from their home. Recently, a man used gasoline to set fire to his own home because he became so overwhelmed with the bed bugs biting himself and his wife. First let's begin with that we never ever recommend setting fire to your home to get rid of bed bugs; and second there is a much easier, safer, and saner way to get rid of them from your home, contact Schendel Pest Services!
At Schendel Pest Services we have the experience, training, knowledge, and technology you need to rid homes of every adult, egg, and larvae that have invaded it. We specialize in the detection and extermination of bed bugs from homes in the Topeka area. We are what cause bed bugs to have nightmares!
Our bed bug control services begin with an inspection in order to positively determine that bed bugs are present. We have discovered that one of the most effective and accurate ways to complete a bed bug inspection is with the use of specially trained bed bug detection dogs. These trained dogs are very beneficial for many reasons:
They can find bed bugs hiding in spots that the human eye simply can't

They are fast and accurate

They are non-invasive (they have no problem working around your belongings and/or clutter)
If the canine inspection identifies that treatment is needed, we offer the most thorough treatment available with our perfectly tailored heat treatments. Heat emitted through the use of specially designed, temperature controlled, supervised, safe electric heaters (not gasoline) is a very effective method to kill all the adult bed bugs and/or their eggs and larvae living within your home. The heat is distributed evenly throughout your home and into any and all cracks or crevices that the bed bugs are hiding in. Along with being safe and very effective this method of elimination is also extremely environmentally friendly. No chemicals are used, the results are immediate, and your home can be re-entered immediately after treatment has ended.
If you are currently in a situation where bed bugs have entered into your Topeka home or business, don't despair! Get them out quickly and completely by contacting the bed bug experts here at Schendel Pest Services today. With our team on your side, you will be sleeping soundly in no time!