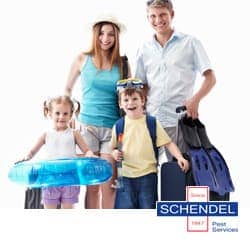 Bed Bugs And Your Summer Vacation
6/26/2013
Summer is here and the pest control professionals at Schendel Pest Services are busy once again, taking care of summer pests that have sprung up all over Kansas City and throughout our service area. One of the pests you want to look out for that can cause you the biggest headache is the dreaded bed bug. Their numbers tend to surge in the summer, as people spend more time traveling, both inside the United States and internationally.  With more people traveling and spending time in places with high turnover rates, the more bed bugs that find their way into our public places, making it much easier to pick up these pests while spending time out and about.  It sounds like something out of a summer blockbuster, but bed bugs really do become more active in the summer and because of this, we get calls daily about people finding bed bugs in their homes. At Schendel, we like to remind people that even though it's summer and you may be taking a summer vacation, you must continue to remain vigilant against these biting pests. 
Bed bugs can be found pretty much anywhere that people are and if you're planning a summer vacation, you'll want to stay very aware that you could be picking these bugs up during your travels.  At Schendel Pest Services, we appreciate that you put your bed bug problems in our hands, but we'd rather you not have to deal with these annoying pests in the first place! Here are a few tips on avoiding bed bugs on your summer vacation. 
When you pack your suitcases, keep in mind that any bed bugs you may encounter on your journey will try to attach themselves to your luggage. To keep from bringing them home, use hard sided suitcases and pack your belongings in zip top baggies to protect them from invading bed bugs. 
Do some research before you choose your hotels. Check out the website www.bedbugregistry.com to make sure that there are no recent sightings of these pests at places you plan to stay. 
When you're on public transportation, don't put your personal bags on the floor or even on the seat next to you. Keep your belongings on your lap so stray bed bugs around you don't crawl into your bags. 
When you finally return home after your trip, do a thorough inspection of your luggage and personal belongings to look for signs of bed bugs or their eggs. If you think you may have picked up bed bugs, give us a call at Schendel and we can do an inspection of your luggage for you before you even bring it inside your house.  Our technicians know where to look for these pests and can help you locate the bugs that may have hitchhiked home with you.  We also offer highly accurate K-9 bed bug inspections as well as comprehensive bed bug control options, including bed bug heat treatments to help you get rid of bed bugs.  Our trusted Kansas City pest control technicians have been servicing Kansas City, Topeka and much of the Midwest since 1947 and won't rest until your problem is gone. Contact us today for more information on our bed bug services or for information on any of the other pest control services we offer.