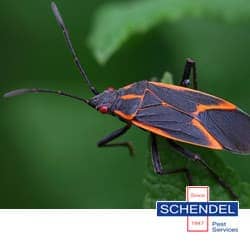 Find Out What Boxelder Bugs In Topeka Are Up To
10/23/2012
It is clear, that with some days in the 80s and other in the low 60s here in Topeka, summer is over.  The fluctuating temperatures are a sure sign fall has arrived and that cooler weather is on its way to Kansas and the Midwest. While fall is a great time of year, there are a couple drawbacks, namely bugs. Yes, each year as the temperatures begin to drop there are many eager pests hoping to get inside of your warm home to spend the winter. Among the many insects and other critters, boxelder bugs are one of the more common fall pest problems.
Boxelder bugs take their name from their preferred food source, which is the boxelder tree, but they are also known to feed on ash and maple trees. Boxelder bugs enter homes in search of a warm winter retreat, and though they are not dangerous, unfortunately your home could be inviting to these nuisance pests.  
Rarely are there just one or two boxelder bugs but dozens, even hundreds when they start looking for places to overwinter. So even though they are not going to cause structural damage or spread bacteria and disease like mice and other household pests, their sheer numbers make it very hard to get rid of boxelder bugs.
The good news is that by sealing off your home, you will avoid the threat of boxelder bugs trying to take over this fall and winter. Make sure to inspect around the exterior of the home to fill in any cracks or holes and also check that all window and door screens containing tears are repaired. If your home is properly sealed, the bugs will not be able to easily gain access to the inside.
In the event that you do have a boxelder bug infestation in Topeka, Kansas City or elsewhere in Kansas, Missouri we can help! At Schendel Pest Services we offer homeowners a year round pest control services that not only resolves current pest problems but helps to protect you from any future infestations as well. To learn more and to get started with your pest protection plan, make sure to contact us today!