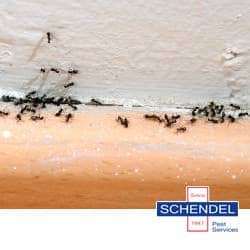 Do You Know How To Get Rid Of Ants In The House?
3/20/2014
The Topeka pest control pros at Schendel would like to address the issue of ants in your house. With spring finally here, homes throughout Topeka, Kansas City and other areas in our region are sure to be dealing with ants again sometime soon. Why are there coming into your home? Ants are hungry! With the warmer days we are starting to experience, ants are going to start finding their way indoors, searching for food. They will look in your cupboards, around your appliances and even in your trash can; ants aren't that picky. If there's food around, ants will be there!
Here are a few of the dos and don'ts for getting rid of ants:
Do put your food under wraps. Make sure everything in your pantry is protected in a heavy duty, plastic containers (we're thinking of that recently opened bag of sugar). Never leave food out on your countertops. Keep your kitchen and pantry area clear of crumbs and spills whenever they occur.

Do not kill every ant you find. This can actually make the ant problem worse. When the queen ant sends in her foragers and they don't all come back to the nest, she sends out even more. Although you might be eliminating a few ants when you squish them, there are sure to be more to follow.

Do become familiar with the type of ants you are seeing in your home. If you can recognize what type of ant you are dealing with, you will be far better prepared in battling them. It is good to know if you're dealing with carpenter ants, because although they can be annoying when they forage for food in your home, they can also be destructive. Carpenter ants will burrow into the wood beams of your home and hollow it out to create galleries for their colony. If you are seeing carpenter ants, call in a pest control professional, quick!

Don't put up with an ant problem for long. The longer they are a problem in your home, the worse the problem will get. Give the pros at Schendel a call when you are ready for professional ant control services.
If you don't have ants in your home yet, now is the time to act! Do a thorough search around your home to look for places where these pests could be getting inside. If you find possible entry points, block them up as best you can. If you can't find entry points but know that you've had problems with ants in previous years, give the Kansas City pest control pros at Schendel a call. We can help with all kinds of pest problems, including pest prevention in your home. In fact, when you choose our Premium Care program, we will keep your home pest free for the year. We will perform intensive interior and exterior services and follow up with quarterly visits.
With spring here, the warm weather is not far behind! You want to enjoy this time of year and not spend it worrying about how you will get rid of an ant invasion! Give us a call today to learn more about our services and to schedule your first inspection!