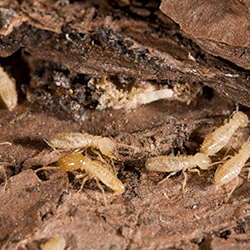 Impact Fall Weather Has On Termites
9/25/2017
Termites are probably the most structurally damaging insect in the United States. This is due in part to the fact that their primary food source is wood and other fibrous items. They will penetrate siding, plaster and other tough materials in order to reach the wood they desire, such as furniture, books, floors, ceilings, and walls. Their ferocious eating habits can severely damage a home. This damage will compromise the strength and stability of structures, making them unsafe and uninhabitable. The repair bills or rebuilding costs from the damage they cause can be astronomical.
Most of the time, termites are not detected before serious damage has already occurred. It would be wise to contact a pest control professional before an infestation begins or at the first sign of an infestation. You probably won't actually see any termites, but you may find droppings that are ridged tan-colored pellets, exterior mud tubes along walls and shed wings that look like tiny scales.
Since termites primarily live outdoors and do most of their traveling underground and in the dark of night, you won't be able to get rid of them on your own. Even if you could find some of them, it is nearly impossible to locate the colonies and eradicate every single termite at every developmental stage. And, it is important to keep them out of your home in the future as well. This is why it is essential that you call on a professional to take care of your termite problems before it is too late.
Most people are aware that termites are active during the warmer seasons, and don't realize that termites can be active during the colder months as well. This is largely due to the fact that the temperature inside homes is controlled, and if termites have entered a home they will remain comfortable there. Termites do not die off in the winter time, they may be less active and dig down a little further underground, and that just makes them even more difficult to locate. And just because it's winter, don't let your guard down. Keep a watchful eye on signs of a termite infestation.
If you are a homeowner in our service area, don't worry about termite infestations and the damage they can cause, just give us a call at Schendel Pest Services. We will inspect your home, stop the termite activity, eliminate all of the colonies, and use a monitor and bait system that is efficient as well as effective. Give us a call today to learn more about our termite control options.