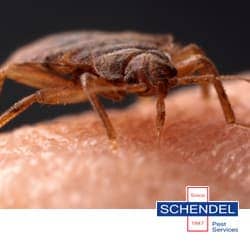 Is It Just Us, Or Are Bed Bugs Worse In The Summer?
8/13/2012
Whether you live or operate a business in Topeka, Kansas City or elsewhere in the country, you may have been hearing about or even experiencing an increase in bed bug infestations this summer. It seems like these bugs really know how to make their rounds, especially during the summer months and the KS pest control pros at Schendel want to share why that is and what you can do to protect yourself.
For many families and individuals, the summer is all about the go, go, go. We tend to travel more, move around more, and with such an increase in travel and movement, bed bugs are sure to tag along. These blood sucking pests can easily find a ride back to your home or business via suitcases, clothing, on people and even on pets in some cases. Bed bugs are no longer found just in beds, they can come from places such as:
Airports and airplanes

Taxis

Hotels

Movie theaters
So, where are you going this summer? Or where have you been? It is important that if you have already taken a trip or if you are planning to travel that you are careful to avoid any encounters with bed bugs. Read our previous blog on where to look for bed bugs in hotel rooms so that you are fully prepared detect and avoid any bed bug problems. And once you arrive back to your home, make sure that you are regularly inspecting the rooms as some infestations can go undetected for weeks and even months.
There is no need to alter your summer plans out of fear of bed bugs. With today's pest control technologies, homes and businesses can be free and clear of bed bug infestations in a matter of hours. To learn more about bed bug heat treatments and bed bug canine inspections from Schendel Pest Services, please contact us today. Providing effective bed bug and pest control in Topeka and Kansas as well as throughout our large service area, Schendel is here to help you enjoy your summer bed bug free!