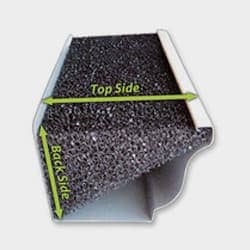 Is Leaf Defender Perfect For Your Home?
10/21/2016
One of the most dreaded tasks each fall is climbing up that ladder to clean out your gutters. Perhaps it is the smell or the gunk that sticks to your gloves or maybe you just don't like heights. It may be that you are tired of dealing with those pesky mice that seem to find living in your gutters desirable. Possibly it is the fact that you don't like being stung by the hornets or wasps that have built their nests there in order to take advantage of the free standing water. Maybe it is all of those mosquito bites that you get when you disturb one of their favorite nesting sites; after all, they just can't resist all that standing water and the cover that those fallen leaves provide. Perhaps it is all of the above. But no matter your reason for dreading that terrible task, what would you think if I told you that you never have to do that again?
You may, in fact, think that I have lost my mind by saying such a thing, but I assure you that I have not. The simple answer that will eliminate this task from your fall to-do list forever is Leaf Defender. No, it is not a new video game or some new sci-fi movie where the hero has to save the trees from certain doom. Leaf Defender is an amazing new technology that will not allow gutters to become filled with debris (and pests) and will keep the water flowing smoothly, uninhibited day in and day out with no maintenance required from you.
Leaf Defender is made from a rugged, durable heavy grade material. This amazing material will stand up to any extreme weather conditions that nature can dish out and will protect your gutters from the clogs and pests that threaten to block them. Plus, it is practically unseen from the ground and will not change the appearance of your home.
I know; this sounds too good to be true! Never having to clean out those gutters again and never harboring those harmful pests in them again! Yes, it is time for your 'happy dance' – right after you contact the experts here at Schendel Pest Services to set up your Leaf Defender service.
Schendel Pest Services, not only are we busy defending homes from unwanted pests, but we are also busy installing innovative technologies to help make your life easier while keeping pests at bay. It really is a win/win with Schendel and Leaf Defender!