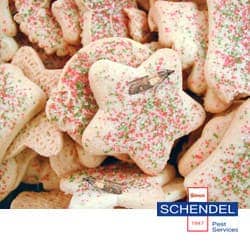 It's Time For Holiday Baking, Do You Know How To Avoid Pantry Pests?
12/18/2013
For homeowners in Kansas City and throughout the Midwest, the holiday to-do list can seem overwhelming, but with Christmas just a week away, hopefully your to-do list is almost complete!  If you're like us, you probably leave the holiday baking to the last minute, so you are probably ready to go elbow deep in the butter, flour and sugar.  But before you head to your pantry to look for all those yummy holiday baking ingredients, Schendel Pest Services, a longtime Kansas City pest control company, would like to offer some tips on how to keep the annoying pantry bugs (also called stored product pests) out of your holiday cookies, cakes and candies. 
For those of you that have been lucky enough to never come across an insect or two in your flour, cake mixes, dry cereal, powdered milk or other stored food products, pantry pests are a group of insects that love the foods that we keep in our cupboards.  Indian meal moths are usually the most common invader, but other pantry pests include the cigarette beetle, the drugstore beetle, the flour beetle and the saw-toothed grain beetle.  To keep your kitchen and pantry free of these uninvited holiday crashers, here's what we suggest: 
Keep food stored in hard plastic or glass containers with tightly fitting lids. 

If possible, any item that is going to be stored for an extended period of time should be kept in the fridge or freezer.

Purchase baking items in small quantities that can be used up quickly; although more economical, bulk items sit around for longer in your cupboards and can be more likely to attract hungry pantry pests. 

Keep counter-tops, floors and other surfaces clean and free of crumbs; clean spills up immediately and always make sure to clean under, around and behind appliances. 

Check expiration dates on food packaging and throw anything away that is past its expiration. 

Do not mix older stored products with new ones; this can cause the infestation to spread. 

Inspect packages in the grocery store for damage prior to purchasing; damaged packages are easily accessed by pests in the grocery store. 
If after you have cleaned and washed down floors and counters, thrown out old stored food and packaged everything up in new plastic containers you are still finding bugs in your cupboards, Schendel Pest Services is always ready to help! Our home pest control services, available in Kansas City, Topeka and throughout Kansas and the Midwest are the ideal solution for keeping your holidays, as well as the rest of the year pest-free. Contact our experienced Kansas City exterminators for more information on pantry pests in your kitchen and Happy Holidays from Schendel Pest Services!
This blog was originally published on December 21, 2011, but we have updated it to reflect the most recent and accurate information available in helping you combat frustrating pantry pest problems.