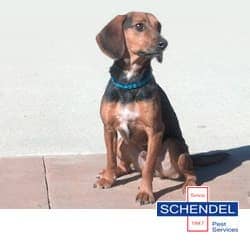 Meet Scout, Schendel's Newest Bed Bug Detecting Canine
12/21/2012
We recently welcomed Scout, our newest bed bug sniffing canine, to the pest control team at Schendel Pest Services. Scout, a two-year-old pure beagle, was adopted from a family who could no longer have pets. We put him through bed bug detection training to ensure he would sniff out bed bugs with the same, high level of accuracy as Patches and we are happy to report he is ready to get to work!
Today, bed bug canine inspections are a leading service to help locate these hard to find pests in both homes and businesses across the country. Bed bugs are not usually in places where they can be seen by the naked eye, which has made it difficult for humans to find bed bugs. Not only are bed bugs very small but also they will hide in places like upholstered furniture, behind mirrors, under carpets and even in electrical outlets.
What makes bed bug canine inspects better than inspections from pest control professionals?
Canines can find bed bugs with a 98% accuracy rate whereas human inspections are only about 40-60% accurate.

It only takes a couple minutes for a bed bug dog to sniff an entire room and determine whether or not there are bed bugs present. Humans take more like 20 minutes per room.

Humans are limited to their eyes for bed bug detection (most bed bugs are not visible to the human eye) and canines use scent to locate bed bugs, which means that furniture and walls are not in the way.
So, if you believe that your home or business could have a bed bug infestation or if you just want a proactive inspection to be sure you are free of bed bugs then know that the bed bug detection team at Schendel Pest Services is ready to help! We can quickly identify bed bugs and proceed with the appropriate bed bug treatment if necessary.
For those who are living in Topeka, Kansas City, elsewhere in Kansas or our service area, if you would like more information on bed bug canine inspections, bed bug heat treatments and other bed bug services in Kansas, please contact us today! Scout is eager to get sniffing!