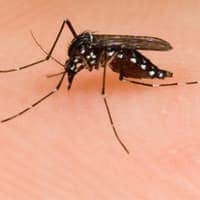 Mosquitoes And Your Wedding Day
5/5/2015
The people come one at a time, dressed in their best. Friends you haven't seen in years. Family from across the country. Some you have built a bond with since birth. Some you've met only a few times through the years. They come with their children walking aimlessly and wide-eyed behind them. They come with their smiles and their friendly handshakes–and their smiles broaden as the see the backyard. The white chairs are set in rank and file, and red and yellow flowers run along the white runway that leads to the beautiful flower arch in the distance. Paper light globes float in the air like fireflies, giving a magical quality to the atmosphere. To the side, a richly decorated deck offers the promise of evening festivities, dancing and food. It is perfect.
This might be your idea of a what a backyard wedding should be, or it could vary depending on what your yard offers, but one thing is certain: you intend for it to be perfect. You pay the caterer, the florist, the carpenter and other wedding professionals, to make sure everything is in its place. But did you think about the pest control company? As someone who filmed weddings for years, I can tell you there is nothing worse than mosquitoes at a wedding. (Well, except maybe the groom passing out.) Not only do these little pests make your guests uncomfortable, they are a plague if you have a cameraman who intends to go off the shoulder. It is nearly impossible to keep a steady shot when you're trying to swat mosquitoes! And forget about trying to make a romantic mood during the ceremony. There is nothing romantic about wiggling and kicking your legs, or pulling your hand away every eight seconds to smack your neck.
Have a pest control company like Schendel Pest Services perform a mosquito treatment before your special day to take care of those mosquitoes. Most mosquitoes don't travel more than 300 yards to feed. By getting a treatment, you can dramatically improve the atmosphere on your wedding day, and protect your guests from the many diseases mosquitoes can transmit.
Mosquitoes should always be on the do-not-invite list. Protect your gathering. Protect your memories. Get mosquito control.