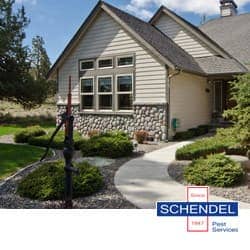 Prevent Pests With These Top 5 Landscaping Tips
7/25/2012
DIY pest control often involves the use of sprays, mouse traps, ant cups and other products that can be purchased at the hardware store as well as home remedies. Unfortunately, these treatments are not generally successful and only focuses on the few pests inside the home and not their friends lurking outside or in a nest nearby. Also, these do-it-yourself pest treatments do not address the issue of how unwanted insects and rodents get inside. That is where pest-proofing can be extremely helpful! Correcting conditions in and around your home that encourage (or do nothing to discourage) pest activity is an excellent use of time that can really pay off.
Pests for the most part gain access to the home via an opening on the exterior. This could be a crack in the foundation, a tear in the screen window or even right through an open door. While pest problems can be prevented by sealing any openings, repairing or replacing screens and keeping doors shut while not in use, the pest control professionals at Schendel Pest know a few landscaping tricks, that if implemented, can also reduce exclude pests.  
To help Midwest homeowners, including those in Kansas City, Branson and Topeka, stay pest free, Schendel Pest Services would like to share 5 landscaping tips to prevent pest problems.
Create a crushed rock perimeter around the exterior of the home. Rock dust is proven to ward off pests and the turbulent surface creates a challenge for most pests to get to the exterior of the home.  

Consider adding plants to the garden that are good at deterring pests. Just a few to mention are marigolds and nasturtiums which help keep slugs, beetles, and flies away and in turn the pests that like to them.

Trim back any trees that are overhanging as this will prevent pests from using the tree limbs as a bridge to cross onto the roof or other exterior surface of your home.

Keep your lawn mowed so that the grass is no longer than 3 inches tall. Tall grass provides safety and security for many pests and thus should be avoided.

Remove any piles of wood, trash, or other materials that could become a home to any critters, wildlife, and their families.
Sound like a lot of work? If you are not interested or if you simply don't have the time to prepare your property for pest prevention then our friends at Schendel Lawn & Landscape can help homeowners in Topeka and surrounding areas! With services including lawn mowing, landscaping maintenance, and much more, you can be sure that your property will be in good hands.
It is important to know that even despite our best efforts pest prevention, some pests are just plain sneaky and can make it past all of our pest barriers. So if your home or property is in fact experiencing a pest problem from pests including ants, rodents, stinging insects, or any other pests, then it is important to contact the KS pest control pros. Our trusted home pest control services will not only get rid of the existing pest problem but also prevent any future problems from occurring.