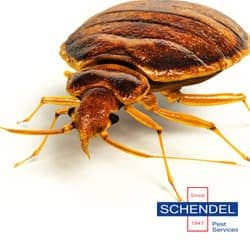 Schendel Pest Services Set To Be A Presenting Sponsor Of The NPMA Bed Bug Summit In Kansas City On May 12
4/26/2011
Schendel Pest Services is excited to be a presenting sponsor of the National Pest Management Association (NPMA) Bed Bug Summit in Kansas City on May 12.  In response to the unprecedented spike in bed bug infestations over the past year, NPMA is traveling the country to meet with property and facility managers about how they can effectively respond to the threat of bed bugs.  We're proud to help bring this national educational tour to the Midwest.
Topics for the one-day meeting include identification and biology, best management practices, inspection and detection, canine inspections and control strategies.  Professionals will also discuss public relations issues and legal ramifications.
Mark Lillis, Schendel's Bed Bug Division Manager and K-9 handler, will be presenting a canine inspection seminar during the summit.  Mark has considerable knowledge and experience with both bed bugs and canine inspections, and will share why canine inspections are such a valuable tool in fighting bed bugs.
We hope you are able to join us on May 12.  If you are a part of the American Hotel and Lodging Association, this program has been approved as continuing education. For more information and a schedule of topics, please visit NPMA's website at www.npmapestworld.org.
National Pest Management Association Bed Bug Summit
Co-Sponsored by Schendel Pest Services
Thursday, May 12, 2011
Registration at 7:30; Meeting from 8:30-4:00
Kansas City Airport Marriott (Kansas City, MO)
Register today at www.npmapestworld.org.  Use the code NPMA2011 in the discount code field when you enter to save $25.