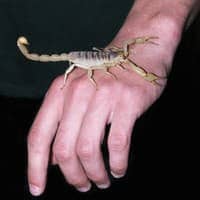 Scorpion Prevention In Arizona?
1/27/2015
Are you concerned about the scorpions you've been finding on your property? You should be. But not for the reason you might think. Deaths from scorpion stings are very rare. But that doesn't mean they don't hurt like crazy and make you sick when they sting you. Fortunately, with medical attention, most scorpion stings can be handled effectively. The real danger with finding scorpions on your property is not only that they have a painful sting, but that they are usually found in large numbers. This can be an even bigger problem if you have bark scorpions. Bark scorpions have the strongest venom of all scorpions living in Arizona, they can climb walls, and like being inside your home. This is a recipe for disaster.
How do I keep scorpions out of my house?
Use a caulking gun to seal gaps around electrical, phone or water lines. Seal up around air conditioning units, outlets, fixtures, and window frames.

Inspect all weather stripping to make sure the bottoms of your doors are properly sealed.

Scorpions eat insects. Switching your exterior lighting to yellow insect-resistant bulbs can reduce the number of insects that are attracted to your home.

Having a professional treat your exterior walls can also reduce insects that scorpions come to eat.

Remove clutter from your yard. Also, be careful when you move or turn anything over in your yard. Scorpions can be underneath.

Consider getting rid of your redwood bark. Scorpions are attracted to it. And, if they are near your exterior walls, they will look for a way in.
How can I protect myself from scorpions?
If you've lived in Arizona for any length of time you know to shake out your shoes before putting them on, especially if they were left outside.

Don't leave towels on the ground near the pool. Scorpions are attracted to a wet towel.

Always be aware of your surroundings when you are outside.

If you see a scorpion floating in the pool, don't assume it is dead.
How do I get rid of scorpions?
If you have scorpions visiting your home, call a pest management company. They have the tools and education to protect your family, your yard and your home from these and other dangerous pests. Your life is busy and frantic enough. You don't need to be running to the hospital with a scorpion sting. Start protecting your Arizona home today.