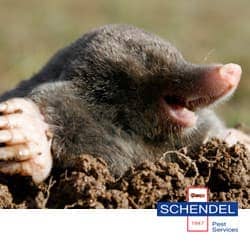 Stop Moles From Striking Your KS Property
4/20/2012
It takes a lot of hard work to create a healthy lawn and landscape and although you try your hardest to maintain a good looking property, lawn pests can quickly challenge your efforts. Moles are one of the common offenders of lawns in the Topeka and surrounding Kansas areas. Quickly your landscape could turn from fruitful to mole holes, tunnels, and uprooted trees and plants if you do not protect your property from mole damages.
In order to protect your property from moles, Schendel Pest highly recommends a mole control program. Unfortunately there are not many things that homeowners can do to prevent moles from entering their property so it becomes very important that there are ways to stop mole activity when they do decide to visit. With Schendel's highly effective mole solutions you can expect:
An initial inspection
On of our experienced technicians will come to your property and check for any signs of moles on your property as well as surrounding properties. If you already have a mole problem they will be able to determine how severe it is and also guide you to our friends at Schendel Lawn & Landscape to fix any damages and restore your property to its original beauty with their top quality KS lawn care services.
Control methods put in place
Next comes the mole control methods which typically include placing baiting stations strategically around your property that are highly effective and discreet. The baiting stations will simulate After 5 to 7 days we will return to check for any new signs of mole activity.
Continuous monitoring
Once your initial pest problem has been eliminated, with our Premium Care Program we will return quarterly to monitor your property and make sure that no new mole activity is occurring.
There is no need to live with lawn and landscape destruction because you can't seem to keep the lawn pests away. If moles are continuing to strike your Kansas City, Topeka, or Johnson County property, contact Schendel Pest today to get started with your mole control program. And when the moles are finally gone, our friends at Schendel Lawn & Landscape will restore your property to its pre-mole beauty!