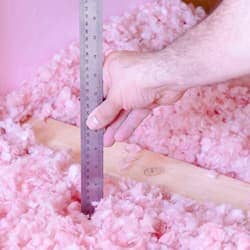 Take Your Home Insulation One Step Further
11/7/2014
If you are like most homeowners, you have fiberglass insulation in your walls and attic. And, that's fine. Fiberglass insulation is a great way to keep heat from radiating out your wall, and through your ceiling. But it isn't the best solution. And, it isn't the only solution.
Are you aware that there is such a thing as pest insulation? If you aren't, give me a minute to explain what you've been missing out on, and it might just blow your mind a little.
Pest insulation is a blown insulation that can be used as the primary insulant for your home, or as an added layer of protection on top of your old insulation. Fiberglass has a tendency to deteriorate or settle over time, which means you're losing money out those cracks and gaps. Pest insulation fills in those spaces with interlocking fibers that create a heat resistant barrier. That means the heat stays inside during the winter, and outside during the summer. If this was the only benefit of installing pest insulation, it would be worth it, because this insulation pays for itself in energy bill savings.
While you're enjoying the energy savings, you'll also sleep better, knowing that your home is now more resistant to house eating insects, like termites and ants, as well as a host of other invasive insects, like earwigs, roaches, and silverfish. The borates in pest insulation kills and deters insects. That means they won't be climbing up through your wall voids, and they won't be living in your attic spaces. Those borates are also flame retardant. So, if a fire breaks out, it can't crawl up through your wall voids or roam freely in your attic crawl spaces.
Adding pest insulation to your home will also add a layer of mold resistance. This insulation is an EPA approved anti-fungal agent. Mold removal can be costly, and comes with a health cost to your family as well. This kind of protection is priceless.
Unlike fiberglass, pest insulation isn't abrasive to the skin, and is made from 87% recycled material. EPA approved, and environmentally safe, this insulation is a solid choice, all the way around.
If you're looking to drop your energy costs, get protection from damaging and irritating insects, and protect your home from fire and mold, pest insulation is a no-brainer. Contact a pest management company, and find out more about this insulation. It is the single best investment you'll ever make in your home.