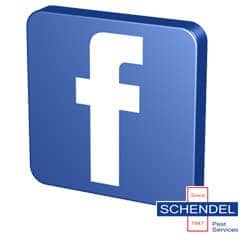 We're Getting Social!
1/13/2013
Well, we have been social for a long time in regards to our friendly pest control professionals and support staff. But now we are also on Facebook which makes it even easier to connect with you! With our Facebook page up and running we wanted to invite you to visit and like our page so you can stay up to date on the latest pest control issues affecting your area.
Since our founding in 1947 Schendel Pest Services has been working to provide both commercial and residential customers respectable pest control services. What began in the garage of Mr. Schendel's Topeka home has now expanded throughout Kansas, Missouri, Oklahoma, Arkansas and even parts of Arizona and Texas.
Our pest control services are designed to meet the needs of each customer in getting rid of existing pests as well as preventing future infestation. Our services include:
Insect control
Bed Bug services
Termite control
Pest bird control
Fumigation
Bioremediation
To find out more about our pest control services in Topeka and surrounding communities in our service area, be sure to like us on Facebook or click here to contact us today!