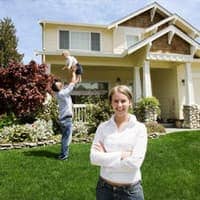 What Does Quality Pest Control Look Like?
2/6/2015
There are a lot of pest companies in the United States, and they all have a different way of doing things. How do you know which one will actually get rid of your pests? What does quality pest control look like? I'm going to use Arizona-based Schendel Pest Services as my example, but you can apply these to any pest control company in the United States.
Termites. When selecting a pest control company to guard your home from termites, there are two questions you should ask. "Does your approach to termite control stop termites before they enter a home?" And, "Do you cover damages if they occur?" Schendel Pest Services has the right answer to both of these questions. They use the Sentricon® Termite Colony Elimination System. This is a natural bait system that can kill termites "before" they can damage your home. And, if termite damage occurs 90 days or more after the initial treatment, Schendel will cover the costs. That is how you protect your home from termites.
Bed bugs. This is not an insect you should be waiting to catch. A bed bug infestation can be humiliating and reputation damaging. When looking for a pest controller to protect you from bed bugs, you don't need an exterminator. Schendel works to protect homeowners from bed bugs long before heating treatments are needed. Bed bugs K-9 inspectors are able to sniff out living eggs, nymphs, and adult bed bugs before they can grow their populations.
Standard household pests. If you're dealing with spiders, wasps, cockroaches, silverfish, ground beetles, crickets, and a host of other invasive bugs, you need a pest control company that has an on-staff entomologist. This is a trained scientist that knows the habits and habitats of problem bugs. They have the education to implement industry-leading Integrated Pest Management protocol and properly evaluate which EPA tested pesticides should be use when natural exclusion methods aren't enough. When you hire a pest control company, make sure they have educated personnel like Schendel Pest Services.
Rodents. These pests can spread Salmonella, Hantavirus, Leptospirosis, and lymphatic diseases. They bring parasites like lice, mites, and fleas into man-made structures. And their gnawing can cause property damage and fires. When looking to exclude these pests, what matters most is that they are 100% gone. Schendel offers a Pest-Zero guarantee. If your pest control company doesn't have a similar guarantee, you need to find one that does.
There are a variety of pests that can get into your home or business. They damage property, and ruin your lawn and spread illness. Partner with a professional pest control company. Now that you know what that looks like, you can be sure you're in good hands.