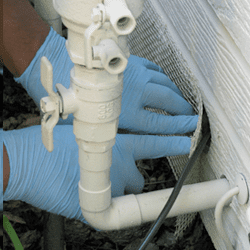 What Is Home Sealing?
12/6/2017
Many homeowners have no idea what home sealing means and how it pertains to pest control services. When it comes down to it, home sealing can be described simply as being one of the best ways to prevent pests from entering your home. Some homeowners may not realize that most pests can get into homes through the smallest of openings—even smaller than the size of a quarter! You may have thought that just by sealing up larger holes and openings that your home has been protected, when it really hasn't all along. For example, most homes have openings for cable lines and vents that aren't properly sealed—it's time to check yours!
Schendel Pest Services offers the Home Seal and Scorpion Guard service to seal up even the smallest point of entry. Schendel's professional pest control technicians know exactly where to look and have the right tools to keep pests out. This mechanical form of pest control includes sealing cracks, gaps, and holes in the exterior of your home. It also includes screening vents and windows properly, sealing doors and windows, and repairing property walls. Every homeowner should consider home sealing for a variety of reasons. The first reason is that it prevents pests from entering your home so you don't have to deal with the nuisances they cause. Even the non-dangerous pests are annoying to deal with and can be extremely hard to eliminate once they've entered. Second, homeowners can avoid all of the harm that pests can cause including damage done to wiring—which is a fire hazard, sanitary issues, nesting, and damage to insulation and your home's foundation. Third, a large consequence of property damage is that is it costly. By incorporating home sealing into your home protection plan, you could be saving thousands of dollars in damage. Lastly, some pests are in fact dangerous and can be a carrier of diseases, such as rabies. The safety of you and your family is a top priority.
Schendel Pest provides residential customers home sealing services and would be proud to protect your home and protect your peace of mind. You can feel completely at ease and not have to consistently wonder "what-if?" By making one short phone call you could be saving yourself future hassle and distress. Contract Schendel Pest Services today and get a jump-start on pest prevention!