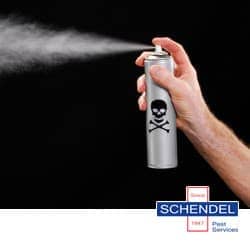 Why DIY Bed Bug Treatments Are NOT A Good Idea
5/11/2012
As professional pest control companies are finding successful methods to get rid of bed bugs, it leaves many home and business owners curious about trying these techniques out themselves. And while do-it-yourself bed bug treatments may seem like a great way to avoid the cost of bringing in the professionals, you could find yourself in the midst of serious problems. Not only are DIY bed bug treatments dangerous, they are often ineffective. Here are just a few reasons why they are not a good idea for homes or businesses in Kansas City and the Midwest.
Purchasing chemicals to treat for bed bugs can be hazardous if used in the wrong amount or in the wrong places. Too much pesticide can leave you, your family, your pets, your employees, or your customers ill. Also, even if the correct amount is used, you still risk the airborne chemicals that linger for a period of time after treatment. Professional pest control technicians have been trained and educated on the exact amount of chemical necessary, the most effective locations to put the chemical, and also the safety protocol for during and after the treatment.
Heat treatments are an increasingly popular method of treating for bed bugs because it proves to be an effective and chemical free method. With concerns for the environment and our own health growing, any chemical free approaches to pest control are favored. But don't be fooled, even though heat treatments avoid the use of toxic chemicals does not mean it is a safe method to attempt on your own. By heating a room to temperatures over 100 degrees you risk:
fire hazards

burning yourself or objects

damage to belongings

electrical problems with use of multiple electric heat sources

ineffectively heating rooms to the necessary temperature to kill bed bugs and still being left with a problem
There is a clear reason why they say to leave bed bug control to the pros. It takes a great deal of precision, training, and education to effectively get rid of bed bugs. While the concepts may seem simple, there is nothing simple when it comes to removing bed bugs from a home or business. The dangerous, risks, and hazards outweigh any savings in DIY bed bug treatments.
In business since 1947, Schendel Pest Services helps home and business owners resolve their bed bug problems in Topeka, Kansas City, and Branson as well as elsewhere in the Midwest. Contact the pest control pros at Schendel Pest Services for highly effective bed bug removal services including canine inspections and bed bug heat treatments.