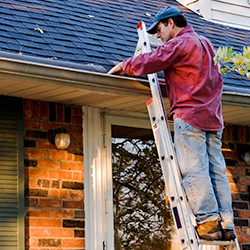 Why Every Home Should Have Leaf Defender
10/9/2017
You know that every few months you take a look at your to-do list and tackle the monotonous upkeep of owning a home. You have to find your ladder, set it up and climb to the edge of your roof to clean out the gutters. Yes, that daunting job that nobody wants to do and it usually gets put off until later, and then it's too late. You end up with unsightly bunches of wet stinky leaves sticking up above the gutters and when it rains there is no water flowing through it and it's just running over the edge splashing to the ground causing a muddy mess on the side of your house. Going up on the ladder during the rainstorm to clear out the gutter has got to be the worst job ever. That clog can even cause some serious water damage to your home as well. But, did you also know that your clogged gutter is making your home very attractive to a variety of pests, like mosquitoes, rodents, termites and stinging insects? And, those pests can be dangerous by carrying disease and causing damage to your home.
You know that you have to get up on that ladder and get those gutters clean, though. But wait, what if you knew there may be a way for you to eliminate the need to climb up that shaky ladder and remove the wet mucky leaf mess every few months and you can dramatically cut down on the population of termites, rodents, mosquitoes and stinging insects around your home at the same time. Wouldn't that be great? This is why every home should have Schendel's Leaf Defender.
Schendel Pest Services can help you eliminate the daunting task of gutter cleaning with their Leaf Defender services. Schendel's Leaf Defender lets the water flow but keeps the debris out. No more wet leafy mess inside the gutters, or standing water to attract pests. This product is a dream come true and will allow you to be able to cross off gutter cleaning forever from your seasonal to-do list.
Schendel's Leaf Defender is durable and can withstand extremely harsh weather conditions, eliminate gutter clogs and it will still look like traditional gutters. So, if you never ever want to clean out gutters again, contact the professionals at Schendel Pest Services to get started with your Schendel Leaf Defender service today!