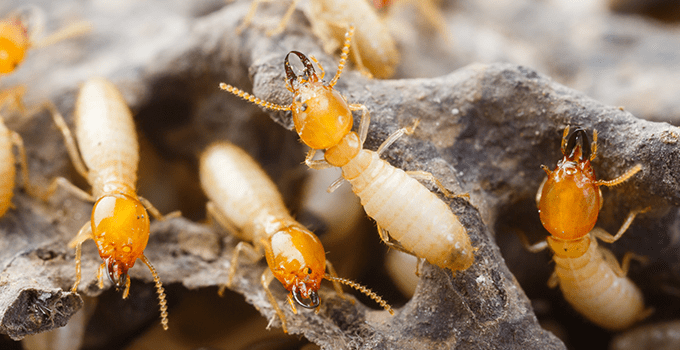 Why Termite Control Is Vital To The Life Of Your Business
2/28/2018
It's generally a "no-brainer," see a mouse, call a professional. See a cockroach, time to call up pest control! Often times, however, we have to see the problem before we know there is one. If we can't see it, we likely don't know it's there, which is exactly why termites are such an issue. Add the tiny size and reclusive habits of termites to the busy schedule of the day, and it's fair to say you may not notice them. Unfortunately, having a termite infestation go unnoticed can result in absolute catastrophe.
Termites feed on wood products of course. Once inside a business, there are a plethora of dinner choices open to them, and if given enough time the termites will feed on all of them. Often times, because the damage is hidden within the structure of your home and not out in the open, finding this damage often means we are too late. The damage that termites have caused has been known to collapse entire buildings, making them a significant risk. 10 times out of 10, termites are going to have to be removed from a structure.
Extensively trained in the habits and preferences of termites, a professional will know right where to start. Schendel Pest Services utilizes a 5 step process, which ensures that we get rid of your termite problem completely and that it does not come back.
Step 1: Professional Inspection – A professional will assess the infestation, as well as the conditions on the property that are conducive to termites, documenting what is found, discussing it with you, and coming up with a plan for control.

Step 2: Stopping Termites – Using every accessible resource, we will execute a custom plan designed for you and your business, putting a stop to termites inside your facilities once and for all.

Step 3: Eliminate the Colonies – We will eliminate any termite colonies located on your property, using bait designed to be shared throughout the colony.

Step 4: Monitor and Bait – We will return annually to reassess your property, checking bait stations for new signs of termite activity. Bait stations are pet friendly, family friend, and environmentally sound. A written document will be composed, detailing the activity found in bait stations, and provided to you.

Step 5: The Guarantee – It is very simple. This annual plan assures that if new damage is discovered 90 days or more after our initial treatment, we will cover it at no additional cost! We will perform a comprehensive inspection of the structure yearly, which is a key component for our commercial pest control as studies show that new colonies can move into and exist where another has been in the past.
Founded in 1947, Schendel Pest Services knows the importance of keeping a business in respectable condition. Don't get caught as part of the five billion dollars worth of damage that termites cause every year. Give us a call to discuss our termite control options, and rest assured knowing that your facility is protected from these harmful pests.