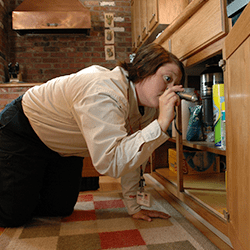 Why You Should Never Ignore A Pest Problem
1/25/2018
There are certain things that we all usually put off until another time because we would much rather be doing something else. However, there are things we shouldn't, like going to the dentist for a regular cleaning to keep our teeth healthy, seeing a doctor for a yearly physical even though we are not sick, or getting the oil changed every 3,000 miles in our car so that it will continue to run smoothly. Well, under no circumstance should we ever ignore pest problems in our homes. Pests can cause health problems or even severe damage to our homes in a very short period of time. It is much better to tackle pest problems immediately after seeing the first signs of a problem, and really it is best to be proactive and prevent them in the first place when at all possible.
Pests like rodents can do serious damage to your home, and they can be hazardous to your health. Mice and rats are continuously gnawing on things to keep their teeth at a manageable length. Carpenter ants and termites work quietly behind the scenes, tunneling through the structure of the home. Cockroaches and bed bugs wait until it's dark and quiet to solve their respective appetites, multiplying to frightening levels. Rodents and some insects can carry bacteria and parasites into your home on their bodies, and while they are digging into your food sources in your kitchen or pantry, can cause contamination. That bacteria can cause a multitude of diseases, not to mention the waste in food that will need to be tossed out. These are not risks you can just shrug your shoulders at.
There are do-it-yourself pest control tips on the internet and elsewhere, some of which can actually make a difference, but many of which cause more harm than good. Some of the chemicals or traps can be dangerous and messy to handle, and pose a danger around children and pets. Many DIY methods are time consuming, costly, and lack effectiveness. What you really need to do is call on the professionals that know how to control pests effectively and efficiently, like Schendel Pest that services Kansas City, Wichita, Tulsa and locations throughout Kansas, Missouri, Oklahoma, Arkansas and parts of Arizona. When it comes to pests, we "Schendelize 'em,'" providing a full range of services that deal with termites, pest birds, fumigation, and others. Don't ignore pest pressures, call on Schendel Pest Services. Honesty and integrity is something we pride ourselves on, and we bring these and many other benefits to our work for you. We meet our customers' pest needs by consistently delivering effective and complete year-round solutions.