Professional Pest Control For Tempe Homes & Businesses
Tempe is an Arizona city that is located in the East Valley; and along with being home to great people, excellent housing options, and thriving industry, Tempe is home to Arizona State University. Whether you live, work, or study in Tempe, the professionals at Schendel Pest Services can offer you the services needed to keep you and your Tempe property safe from pests. Since 1947 we have been providing the solutions needed to keep insects and rodents out of homes and businesses, keeping people protected from the potential pest dangers and damages that they can inflict. To learn more about all the pest control options that Schendel Pest Services has to offer Tempe home and business owners, get in touch with us today!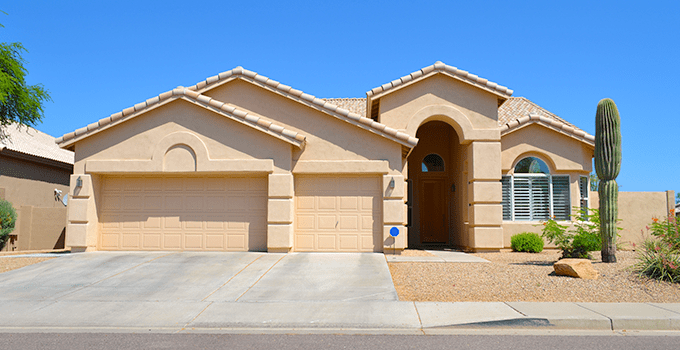 Residential Pest Control In Tempe, AZ
At Schendel Pest Services we understand that each of our homeowners has different needs and requirements when it comes to protecting their homes and family's from pests. This is why we offer a variety of residential pest control services for our homeowners to choose from; each having been designed to meet the unique needs of our customers.
Premium Care program – This program provides you with an in-depth initial interior and exterior service performed by one of our trained professionals; this initial service is followed-up by quarterly pest control visits to offer continuous protection for your home against insects, rodents, and more. By implementing the Premium Care program in your home you are guaranteed that for the next 365 days that your home will be a pest-free zone!
Premium Care Plus program – This program provides all the benefits of our Premium Care program PLUS the added benefit of termite protection.
Home Sealing Service – Through this service our professionals will seal up all the cracks and crevices found in the exterior of your home to help stop pests from gaining access to your home.
Leaf Defender – Leaf Defender allows rainwater to flow freely through your home's gutters while keeping leaves and other debris out. Standing water found in clogged gutters can attract a wide variety of insects to your home.
To learn more about our above residential pest control services or any of our other quality solutions to your Tempe home's pest problems, give us a call today!
Tips To Avoid Cockroaches In Tempe, AZ
Cockroaches are a prolific pest that can enter homes unnoticed. Once inside they will make themselves at home in your house, contaminating food sources, leaving trails of urine and feces, breeding, and spreading bacteria, parasites, and human pathogens; in addition to triggering asthma attacks and allergic responses. To keep these dangerous pests from finding their way into your Tempe home it is important to make sure that any cracks in your home's foundation are sealed, caulk gaps found around windows and doors- especially in basement areas, and install door sweeps underneath of exterior doors. Remove areas of moisture from your home by unclogging gutters, using dehumidifiers, and air-conditioners, fixing pipes and fixtures in and around your home and wiping out moisture from sinks and tubs. Limit food sources found in and around your home by:
Removing garbage from the inside of your home on a regular basis and store it in a sealed container, with a tight-fitting lid, outside and away from the exterior of your home until garbage pick-up day.
Keep pet food in plastic or metal sealed containers, pick up and remove any uneaten pet food in-between feedings.
Making sure to routinely wash dirty dishes, pick up spills and crumbs, and clean out behind large appliances.
Food in the kitchen and pantry should be stored in plastic or glass containers with tight-fitting lids or in the refrigerator.
To help you get rid of current problems with cockroaches or to prevent future problems with cockroaches in your Tempe home, give us a call today at Schendel Pest Services.
Commercial Pest Control Solutions In Tempe, AZ
At Schendel, we offer a wide variety of commercial pest control services to keep Tempe businesses free of the toughest pest including bed bugs, termites, birds, and moles. Our tailored pest control program can protect a wide variety of commercial industries including:
Restaurants
Multi-unit housing
Hospitals
Retail
Warehouses
Hotels
And more!
Schendel provides commercial pest control services that are tailored to businesses and their specific industries through our Total Quality Assured program. The Total Quality Assured program will provide you with a pest-free environment in your facility and will not only meet your expectations but exceed them. To learn more about protecting your Tempe business from dangerous and damaging pests, get in touch with our Arizona commercial pest control experts today!
Protect Your Tempe, AZ Home From Termites
Worker termites may have a soft body, but they have saw-like jaws that they use to tunnel their way through structural wood. Once inside your home, these relentless pests will continuously work and feed on your home's structural wood until professional measures are taken to eliminate and stop their damages. At Schendel Pest Services, we have the services needed to quickly eliminate any size termite infestation from any size Tempe property. Our termite control service includes:
The completion of a professional termite inspection
Stopping destructive termites through the installation of the Trelona® Advanced Termite Baiting System
The elimination of the active termite colony from your home and property
The annual monitoring and baiting of the Trelona baiting system; along with a yearly written update being provided
To learn more about our progressive termite control services and how they will quickly rid your property of destructive termites, give us a call today.