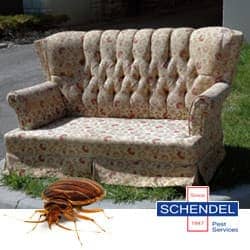 Bed Bug In Kansas Infest Hotels And Unlikely Places
2/25/2013
For the past few years much of the media's coverage of bed bugs has been surrounding infestations in hotel rooms. But in reality, bed bugs have moved far beyond hotels in Kansas and surrounding areas. It is not uncommon to find bed bugs in your everyday life since these blood sucking pests have become so deeply embedded in cities across the country and right here in our own backyard. Although they do not transmit disease to humans, bed bugs are still a major nuisance and a hard pest to get rid of.
Where are bed bugs in Kansas being found? In addition to hotels and other commercial lodgings, bed bugs can be found:
In the library and on your library books

On used furniture and clothing

On backpacks and purses

At the movie theater

In your favorite retail store

In the taxicab
Clearly, locations that have never before been associated with bed bugs are now becoming increasingly at risk for infestations. With humans coming and going from public places on a regular basis, all it takes is a hitchhiking bed bug and a few sticky bed bug eggs to start a major pest problem. But the good news is that the Kansas pest control professionals at Schendel Pest Services are prepared to come to rescue if and when bed bugs decide to visit your home or business in Topeka, Kansas City or elsewhere in Kansas.
Our bed bugs control services include canine inspections to quickly and effectively detect bed bugs and their location as well as heat treatments to safely get rid of bed bugs, no matter how severe the infestation may be. We understand that bed bugs are a major threat to families and businesses in Kansas which is why we have developed bed bug services that you can trust to quickly return your home or business back to a bed bug free state.
So, next time you visit the library and happen to check out a bed bug ridden book, or see the latest thriller at the theater and bring home your own horror story, simply contact Schendel Pest Services for help! While bed bugs continue finding new places and spaces to infest, our Kansas bed bug exterminators will continue to fight back and stop infestations from spreading, all with the National Pest Management Association's Best Management Practices for Bed Bugs. Give us a shout today to learn how you can get rid of bed bugs in Kansas!