Providing Pest Control Since 1947
Schendel Pest Services was founded in 1947 by Bob Schendel, a Kansas native who served as an entomologist for the U.S. Army at Fort Belvoir, Virginia during World War II. After the war, Mr. Schendel started Schendel Pest Services in the garage of his home in Topeka and quickly built a respected pest control business throughout the state of Kansas. During those early years, Schendel specialized in servicing commercial accounts including Beatrice Foods (now ConAgra), Newman Hospital of Emporia and completing FDA sanitary inspections at poultry processing companies throughout Northeastern Kansas.
Schendel expanded in the mid-1950s into Lawrence, Kansas and began servicing residential customers, as well. The company was incorporated in the state of Kansas in 1959 and Mr. Schendel ran the company until his retirement in 1979.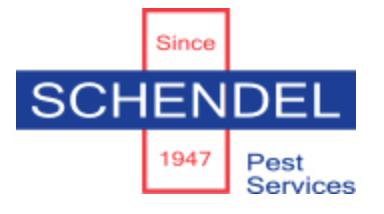 Upon retiring, underscoring his strong belief in giving back to his employees, Mr. Schendel offered his branch managers the opportunity to purchase their operations as a thank you for their years of service. The Topeka branch was purchased by Paul Mages and the Lawrence office was acquired by his brother-in-law Jon Isaacs. They merged the two companies, creating the current Schendel Pest Services corporation and continued Mr. Schendel's focus on providing excellent customer service backed with entomologist-administered pest control programs. The brothers retired in 2006 and 2003, respectively and were able to keep the business in the family by passing the leadership along to President Brent Boles, a long-time manager and the son-in-law of former owner Paul Mages.
"Our vision is to be the most respected PCO in our markets…respected by our customers, co-workers and competitors."
In 2012, Schendel was acquired by the largest pest control company in North America. Even though, ownership has changed Schendel still operates and conducts business off the same core values that were put in place in 1947.
Today, Schendel Pest Services offers commercial and residential services throughout six states and is proud to maintain its corporate office in Topeka, Kansas. With pest control services available in Kansas City, Wichita, Tulsa and in locations throughout Kansas, Missouri, Oklahoma, Arkansas and parts of Arizona and Texas, the company also still uses the slogan "Schendelize 'em" which was popularized by the Schendel family during the 1960s.
In 2012, Schendel was ranked number 42 on PCT Magazine's top 100 pest management companies list. Schendel was the only pest control company in the Top 100 located within a 600 mile radius of our Topeka, KS headquarters. Schendel provides a full range of pest management services, including insect, termite and pest bird control as well as fumigation, weed control and bioremediation services.
Our Values
Honesty and integrity in all that we do. A fun and safe workplace that is void of politics, whining and unfair treatment.
Pleasing customers by doing what is needed to meet their needs in a safe, legal and ethical manner.
A professional image for all Schendel co-workers, vehicles and offices.
Giving opportunities to individuals who earn them.
Delivery of consistent service by following company's service strategies.
Loyalty to our company, co-workers and vendors.
An open door for feedback.
Direct and honest communication with customers and co-workers.
Accountability to each other for all of our actions.
Regulatory compliance in all we do.