Protect Your Facility From Pigeons & Other Pest Birds
Schendel's pest bird removal and control service is the smart choice in wild bird removal for commercial facilities. Schendel protects your property from flickers, pigeons, sparrows, swallows, geese, crows, grackles, woodpeckers, starlings and more. Each program is designed to fit any pest bird issues that you are encountering today and help protect from bird pest problems in the future.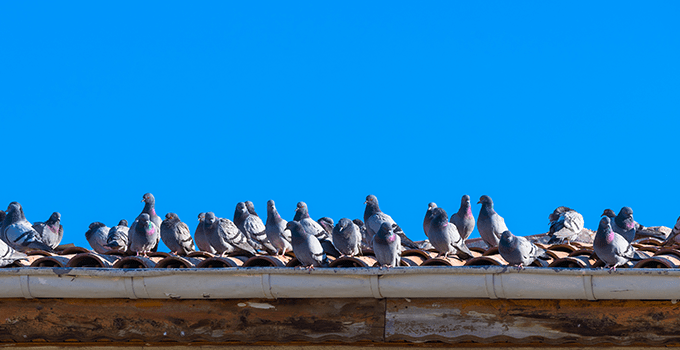 Avoid Costly Bird Damage To Your Business
Pest birds cause tens of millions of dollars of damage every year to American buildings, machinery, automobiles, roofs, ventilation systems and much more. Bird fecal droppings and nesting materials that are allowed to accumulate pose a host of physical problems which can become very serious if they are not corrected immediately.
Protect Against Health Risks Associated With Pest Bird Issues
Feces, parasites and disease are just a few concerns that wild birds can produce unintentionally around your facilities. Hospitals, office buildings, malls, food processing facilities and restaurants are all at risk from potential winged invaders who are looking for shelter. Pest birds are found in or around commercial facilities.
Schendel's Bird Control Solutions Are Designed To Keep Birds Away For Good!
Schendel bird removal programs are designed to keeps birds out and designed to make your facility look less attractive to birds for sheltering and nesting. Working with quality products such as Bird Barrier allows Schendel to provide you with quality long lasting products with unbeatable service and installation.  Schendel treats and prevents pest bird activity through Western, Central and Eastern Kansas, Central Missouri and Western Missouri and throughout parts of Arizona, Arkansas and Oklahoma.