WHAT ARE CLOVER MITES?
Clover mites are a type of nuisance pest that are related to ticks and spiders. As their name suggests clover mites feed on the juices of clover, grass, and other lawn plants. Clover mites are very tiny, about the size of a pin head (.75mm), their body is oval in shape, and they have 8 legs. The front two legs are much longer than the other 6 legs, and are sometimes confused with being antennae.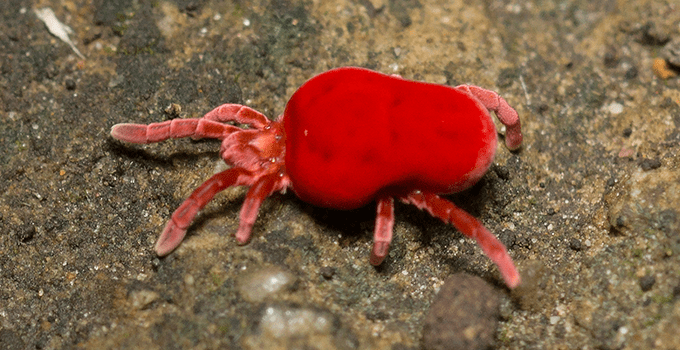 WHY DO I HAVE THEM?
Clover mites overwinter as adults or eggs; when the weather warms in the early spring they emerge from their overwinter spots and climb up the sides homes and other buildings in large numbers. They accidentally enter into homes through small cracks in the foundation or exterior walls, and through gaps around windows and doors. While they can become quite a nuisance, they are not dangerous, but can cause items to become damaged within the home. When clover mites are squished or crushed they leave a red mark behind that can stain walls, floors, furniture, and clothing.
CAN I DO IT MYSELF?
Do-It-Yourself pest control is never recommended. DIY Chemicals used to control pests are mostly ineffective, and do nothing to solve the root of the clover mite problem, which is to address how they are getting inside of your home. Also, if not properly mixed or placed DIY chemicals are a threat to you, your family, pets, and plants. The safest way to control a clover mite infestation is with the help of a trained professional.
HOW SOON CAN YOU GET HERE?
At Schendel we understand how important time is when dealing with a pest invasion. This is why we are committed to helping our customer most often the same day or at the very latest the next day. Contact us today for help with your clover mite infestation.
IS THE TREATMENT SAFE?
Yes, our treatment methods are safe for use around people, pets, and plants. Our technicians use the smallest amount of material possible to solve your pest problem whether that is using natural products, baits, or conventional products.
Schendel follows very strict guidelines, and all of our conventional products are EPA registered, further ensuring the safety of their use.
HOW MUCH DOES IT COST?
All of our pest services are standard priced. Pricing may be dependent on the size of your home and numbers of treatments that are required to solve your specific pest problem. We are able to provide our customers with FREE quotes; and our technicians are dedicated to making sure that you are aware of any changes to the price of your service before treatment begins.
We take pride in communicating openly and honestly with our customers ensuring that there are no surprises for you during the billing process.
WHAT IS THE GUARANTEE?
We provide our customers with our PestZero Guarantee, this means we guarantee that your home will stay pest free for one year. Our technicians will provide you with an initial interior and exterior service and will then provide quarterly follow-up visits to ensure pest are controlled around your property and in your home. If for any reason a pest treatment is needed between visits we will provide that treatment at no additional charge.
HOW CAN I PREVENT THIS IN THE FUTURE?
Preventing clover mites is difficult and frustrating because they are so tiny and can fit themselves through very small spaces to get into your home. Maintaining a barrier of 6-24 inches between your home and lawn can help to limit the numbers that invade your home. Also, making sure to fill in any cracks or crevices in the foundation or exterior walls of your home can help; along with caulking spaces around exterior doors and windows.
The best way to prevent and control clover mites is by having a year-round pest control service plan in place.