EFFECTIVE MOSQUITO & TICK TREATMENTS
While time spent outside is great, it can be ruined quickly by the nuisance of outdoor pests. Mosquitos and ticks are a few of these outdoor pests that can put a damper on an event or quality time outside. Having a pest control plan and leveraging the expertise of Schendel Pest Services, you'll be less likely to worry about pests ruining your parties or time in your outdoor spaces.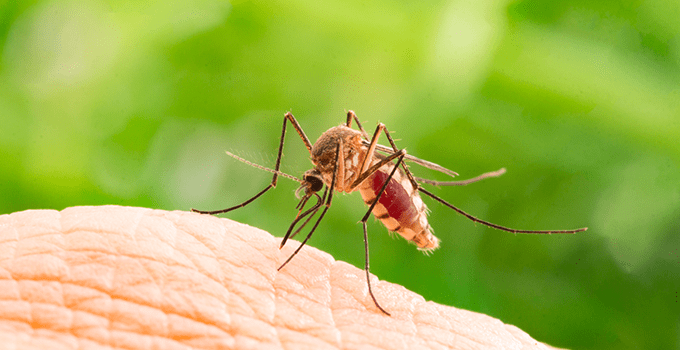 Mosquito Control
Unfortunately, we're all aware of the nuisance mosquitoes can be when outdoors. The buzzing and biting can become annoying quickly, making you want to cut your time outside short. The itchy red bumps can last for days after being bitten and can cause discomfort. Mosquitoes can also be problematic as they are known carriers of parasites and viruses like West Nile and Malaria.
Both residential and commercial properties are at risk for mosquito infestations. Standing water in flower pots, birdbaths, ponds, poor drainage, clogged gutters, and containers even as small as a bottle cap can all provide mosquitoes with enough water to lay their eggs.
Addressing the sources that could attract mosquitoes is helpful in defending your home against future infestations, but it's not enough to completely protect you and your property. Candles and over-the-counter repellants might work temporarily but aren't as reliable as professional mosquito control services.
Schendel Pest Services offers affordable and effective mosquito control treatments with our new revolutionary system that is more than a barrier or repellent. It controls mosquito colonies, benefitting all types of areas and events, including:
Homes

Restaurants

Apartment buildings

Weddings venues & other outdoor events

Commercial properties

Schools

Parks
Each treatment will be performed by a trained and certified Schendel team member who will begin with a complete property inspection and written report of all their findings. After the inspection, our mosquito control treatment is applied to your property to quickly and effectively rid your yard of mosquitos.
Tick Control
Mosquitoes aren't the only pest that can deter you from enjoying your outdoor spaces. Ticks are also commonly found in yards, especially those frequented by other wildlife species. Wildlife like deer, raccoons, squirrels and skunks can bring ticks and fleas to your property.
Ticks aren't just a threat to you and your family. Pets are also at risk for tick bites. Ticks are common carriers of diseases like Lyme disease, which can cause a variety of health complications. These pesky pests are small and often hard to detect, borrowing into fur or skin. Sprays and repellents may work to keep ticks away for periods of time, but they aren't a fully effective tick control method.
Not only can ticks ruin your time outside, but they can also be carried into your home and create an infestation inside.
A tick infestation can become a serious problem very quickly and should be trusted to the experts to get it under control. Our team of technicians has extensive tick control experience, preventing ticks both inside and out.
Our solution for tick removal starts with an inspection. A technician will come to the property and examine where the infestation is taking place and how severe it is. After the inspection, our team will provide recommendations for ways to make your home or business less attractive to ticks. This is followed with the treatment of your property. In order to ensure ticks stay under control , we recommend signing up for monthly monitoring and re-treatment services.
Call Schendel Pest Services for Your Pest Control Needs
Having a pest control plan to remove and prevent pests is crucial to keeping the outdoor spaces of your residential and commercial property safe and nuisance-free. Don't let pests control your property. Bring freedom back to your outdoor space with tick and mosquito control services from Schendel Pest Services. Contact us to schedule an inspection today!