WHAT ARE EARWIGS?
Earwigs are a nocturnal insect that hide during the day in the cracks and crevices of dark, damp areas.  They become active at night and come out to feed on plants, mold, and other insects.  Adult earwigs are dark brown to reddish-brown in color; they have six legs, a long narrow body, and a "pincher-like" appendage that comes off the back of their abdomen.  Most species have wings, though not all species that have wings can fly. Also earwigs that do fly are not the strongest flyers and generally just fly in short bursts.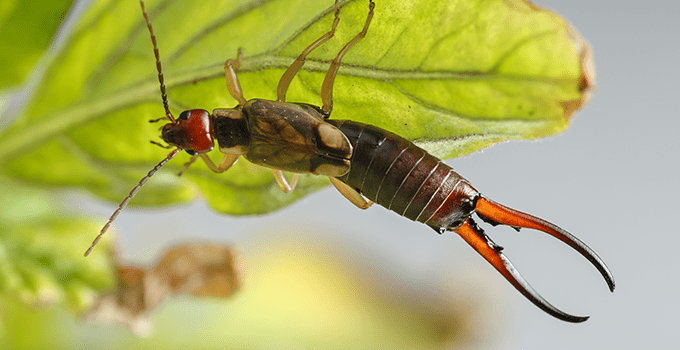 WHY DO I HAVE THEM?
Earwigs are attracted to light and can often be found gathering around porches and decks in the evening; in the morning they can be found hiding underneath potted plants, chair cushions, newspapers, and in similar areas.  Earwigs will enter into homes through cracks or crevices found around windows and doors while searching for food or if the weather become too cold or too hot and dry for them.
ARE EARWIGS DANGEROUS?
Earwigs are not dangerous, they are considered to be a nuisance pest.  Many people believe that earwigs are dangerous because of a myth that is associated with them.  The myth states that earwigs crawl into the ears of sleeping people and burrow into their brains to lay their eggs.  This myth, thankfully, is completely untrue.  People are also afraid of earwigs because of their pinchers; however, the pinchers are not strong enough to break the skin of people and rarely strong enough to cause pain.  The pinchers are used to defend themselves against each other not against people.
CAN I DO IT MYSELF?
Do-It-Yourself pest control is never recommended.  Chemicals used to control pests that are found at hardware and big box stores are often ineffective and do nothing to solve the root of the problem- how the earwigs are getting inside of your home.  Also, if not properly mixed or placed correctly, the chemicals are a threat to you, your family, pets, and plants. The safest way to control an earwig infestation is with the help of a trained professional.
HOW SOON CAN YOU GET HERE?
At Schendel, we understand how important time is when dealing with a pest invasion.  This is why we are committed to helping our customer most often the same day or at the very latest the next day.  Contact us today for help with your earwig infestation.
IS THE TREATMENT SAFE?
Yes, our treatment methods are safe for use around people, pets, and plants.  Our technicians use the smallest amount of material possible to solve your pest problem whether that is using natural products, baits, or conventional products.
Schendel follows very strict guidelines, and all of our conventional products are EPA registered, further ensuring the safety of their use.
HOW MUCH DOES IT COST?
All of our pest services are standard priced.  Pricing may be dependent on the size of your home and numbers of treatments that are required to solve your specific pest problem.  We are able to provide our customers with FREE quotes; and our technicians are dedicated to making sure that you are aware of any changes to the price of your service before treatment begins.
We take pride in communicating openly and honestly with our customers ensuring that there are no surprises for you during the billing process.
WHAT IS THE GUARANTEE?
We provide our customers with our PestZero Guarantee; this means we guarantee that your home will stay pest free for one year.   Our technicians will provide you with an initial interior and exterior service and will then provide quarterly follow-up visits to ensure pests are controlled around your property and in your home.  If for any reason a pest treatment is needed between visits we will provide that treatment at no additional charge.
HOW CAN I PREVENT THIS IN THE FUTURE?
The best defense against earwigs is to have a year-round pest control service plan in place.  In addition to a year-round pest control plan, there are some things that you as a homeowner can do to prevent an earwig infestation.  Seal cracks and crevices found around doors and windows and install door sweeps on all exterior doors.  Replace white outdoor light bulbs with yellow light bulbs which do not attract insects.  It is also important to reduce humidity levels in your home by using de-humidifiers or air-conditioners.