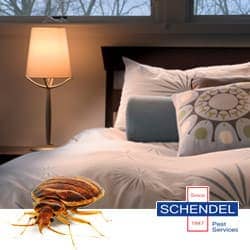 Bed Bug Inspections From The Kansas City Pest Control Pros
9/6/2013
You may have heard that bed bug problems are worse in the summertime. This is often true, because there is a tendency for more travel in the summer, which means bed bugs can spread more easily. But unfortunately, bed bugs are not like mosquitoes, in that they are only a problem in the summer. Bed bugs can be a problem all year long, which is why they are such a serious concern in this country. When the weather cools down, bed bug problems don't go away; they could be popping up inside your home or business no matter what the weather is like outside. Luckily for home and business owners in Kansas, the Topeka pest control professionals at Schendel can offer bed bug inspections and treatment services all year round, which can help locate and eliminate bed bugs of all life stages.
When you call Schendel for a bed bug inspection, we will check your home thoroughly for signs of bed bugs. Because we are so careful, bed bug inspections performed by our technicians can take awhile. They require checking for these pests (or signs of bed bugs) in areas where they are known to congregate. Sometimes we even need to take off outlet covers to see if we can find bed bugs hiding. In some cases, a canine bed bug inspection is the best choice, because our trained dogs can sniff out a bed bug infestation quickly without having to take anything apart! Their trained noses are a great option in commercial lodgings, where many rooms need to be checked in a short period of time.
Once an inspection has been performed, if there is a bed bug infestation, a bed bug extermination can take place. At Schendel, our weapon of choice against bed bugs is heat. Through our thermal remediation treatments, we raise the temperature of a room to 120°F and keep air circulating at that temperature for several hours. At this temperature, bed bugs and their eggs will die, so we make sure that every nook and cranny of the infested room is warmed evenly. A bed bug heat treatment can eliminate bed bugs from all their hiding places without disturbing your belongings or causing any damage. In most cases, heat treatments for bed bugs are pretty quick and can take less than a day!
Unfortunately, there is little you can do in your environment to deter bed bugs. Reducing clutter may make locating a bed bug infestation easier, but it will not eliminate an infestation. Bed bugs will hide anywhere; sometimes they 'hide' in plain sight, especially in large-scale infestations, so they may be easy to see, but that doesn't make them any easier to eliminate. To prevent bed bugs, periodic inspections are key. Bed bug detection dogs can help in catching a bed bug problem in the early stages, as they only detect the scent of live bed bugs and their eggs and can quickly pick up on the scent of just one bed bug inside a room. Knowing how to avoid picking up bed bugs can also be helpful in preventing bed bugs. Avoid buying second hand furniture and clothing; these items may have bed bugs hiding in drawers and seams. When staying in commercial lodgings, be sure to check your room before you bring in your belongings so that you can establish that your room is bed bug-free before you expose your luggage to the possibility of bed bugs.
When you contact the Kansas City pest control professionals at Schendel, we can help you locate your bed bug problem quickly and get rid of it quickly, so that you don't need to worry about the impact these pests will have on your family or your business. For bed bug exterminators that you can trust, look no further than Schendel Pest Services for exceptional bed bug control!