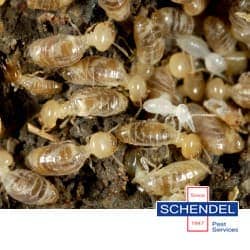 Early Termite Swarm Expected
3/8/2011
It's still chilly outside, but it looks like we may experience an early termite swarm this spring.  The Northeast has already experienced termite swarms, much earlier than normal, and I would expect the Midwest to see swarms within the next two to four weeks. The ground is saturated from the very wet winter we've experienced, and when coupled with a few days of sunshine and warmer temperatures, you have the perfect formula for a swarm.
While a termite swarm is a key indicator you may have termites, you can still have termites and not see a swarm.  That's why it is so important to have your home inspected by a professional who knows what other signs to look for. 
You can also take a proactive role in preventing termites.  The National Pest Management Association recommends these tips for controlling termites:
Keep tree branches and shrubbery well trimmed and away from the house.

Seal cracks and holes on the outside of the home including entry points for utilities and pipes.

Keep basements, attics and crawl spaces well ventilated and dry.

Repair leaking faucets, water pipes and AC units.

Repair fascia and soffits and rotted roof shingles. Some termites are drawn to deteriorating wood.

Replace weather stripping and repair loose mortar around basement foundation and windows.

Store firewood at least 20 feet away from the house and 5 inches off the ground.

Routinely inspect the foundation of your home for signs of mud tubes (used by termites to reach a food source), cracked or bubbling paint and wood that sounds hollow when tapped.

Direct water away from your house through properly functioning downspouts, gutters and splash blocks.