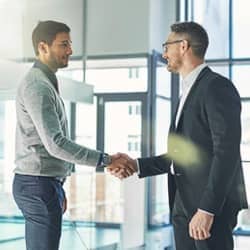 More Than Just Pest Control
2/28/2017
If you've been with Schendel for years, you know that we are more than just a pest control company. Sure, you can expect industry-leading pest solutions that will ensure an environment that is free of disease and illness, ready for governmental audits, and eligible for Certified Platinum LEED status. But, at Schendel, we don't stop there. We are all about making the businesses we service succeed because when you win, we win. It's just that simple. One of the ways we go above and beyond is with our Fresh Zone service.
In business, you don't usually get a second chance to make a first impression. While it is certainly going to help your image to not have cockroaches running across your showroom, or climbing the wall of a conference room, that is not really the bar you probably want to set. You want potential customers, clients, or residents to walk away with a favorable impression of your business. Our Fresh Zone service does this.
There are levels of detail that potential customers notice–details that can influence their desire to purchase. One of those details is scent.
When selling a home or condominium, sellers know that furnishings and smells can mean the difference between making a sale, and having someone say, "We'll get back to you." Some sellers will pop popcorn or bake cookies before potential buyers arrive. That is smart. Very smart.
If you have a business that relies on making a good first impression, scent dispensers may seal the deal. Our Fresh Zone service will:
Make sure your business has the perfect scent. We have many fragrances to choose from.

Give your showroom or lobby a fresh natural scent, rather than a chemical smell.

Make sure your atmosphere is always ready for show by ensuring that dispensers are always working correctly.
A fresh smell created with natural oils will make an environment that is not only pleasant and appealing for potential customers, it is comfortable for your employees as well. And a pleasant environment is scientifically proven to increase productivity and sales.
Whether you're looking to create an inviting atmosphere for customers, or a pleasant aroma for your employee work area, Fresh Zone is the perfect addition. Our scent dispenser service will save you the time and hassle of ordering and changing out dispensers, and give you one less thing to keep track of in your busy schedule. Your atmosphere will always have that inviting smell, and you'll always be ready to make that sale.
For more information about Fresh Zone, reach out to us today for immediate assistance.