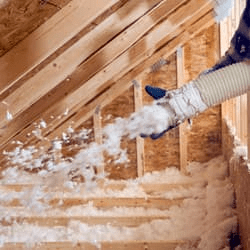 Time To Consider Pest Control Insulation
11/3/2017
Let's face it, the cool weather of the fall months are upon us and the winter months are well on their way. Summer will do it's best to hold on, but for the most part, we will expect the temperature to start dipping any time now. It's that time of year we start to fully realize that our homes may not be adequately insulated and now might be the best time to consider pest control insulation. This insulation is perfect for newly constructed structures as well as existing ones.
Under insulation in a home can be detrimental and can cause a homeowner many problems.
An under-insulated home will cause a homeowner to get higher heating and cooling bills. Without proper insulation, heating and cooling units work harder to heat the home and may escape through the attic and walls. Be very careful because under-insulated homes can cause uneven temperatures in a home, that can cause other problems.
Loss of money through high heating and cooling bills

Chilly and drafty rooms that can cause health problems

Frozen pipes around severely under-insulated pipes

Attic leaks caused by moisture can cause water damage and mold

Ice dams on roofs can ruin a roof and gutters as well as be a safety hazard

Escape of warm air through tiny cracks and gaps will attract pests like rodents and insects to enter your home through your foundation and exterior walls
Here is a way for you to get the insulation that your home needs, while at the same time adding other layers of protection, including pest control. Pest control insulation from Schendel Pest Services will close gaps in your attic, crawlspaces and other places in your home to stop cold and hot air from going in or out. This will lead to less energy loss, which will save you money. As an added bonus, your home will be protected from insect infestations, due to the added borate that will kill a variety of invading pests but is not dangerous to have in your home. Pest control insulation is also fire-resistant, which will limit the spread of a fire, and that will give you and your family more time to get out of the house and more time for the fire department to arrive. The insulation helps to absorb sound and can prevent mold from forming, and if that's not enough to convince you, it also protects the environment. That is because it is made of 87% recycled materials and bares the Energy Star label.
Give us a call today at Schendel Pest Services and let us install our Pest Control Insulation in your new or existing home.