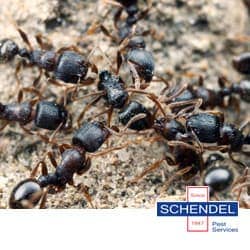 Ant Control In Kansas City
3/11/2012
If you have starting noticing ants marching through your Kansas City home, you are not alone. As we draw closer to spring, ants are back on the hunt for food. Not only are ants a major nuisance pest to have around, some types of ants in Kansas City, like carpenter ants, can be destructive to your home and all are hard to get rid of. So, how can you control ants and stop them from invading your home? The experts in pest control at Schendel Pest Services have a few tips to help you control the ants from making their way into your home this spring.
Eliminate food sources in your home

This is the big one. If ants do not have a food source, it is much less likely you will have ants in the kitchen. In order to eliminate their food sources, you should:
Perform a major cleaning of your kitchen including all appliances to remove any buildup of grease, crumbs and other food debris.

Regularly clean your food prep surfaces to be sure there are no lingering spills or treats that the these foraging pests can find.

Store any open food in containers with tight fitting lids so that ants cannot contaminate your food and worse, call in their friends to join them.
Eliminate their path to get inside
Ants, being the small insects they are, do not require much space at all to sneak inside. This means that even the smallest of cracks, holes, or other exposed areas to the outside could be a wide open door for these guys to get in. It's a good idea to do a thorough inspection of the exterior of your home and make sure that all points are sealed off. Even though the spring breeze is great, a lack of screen or even a small hole in a screen could be just enough to create an ant problem in your home. Not only will you be protecting your home from ant intruders, but many other pests too.  
Do not use store bought ant sprays
Often times people think that a store bought spray is enough to treat for the ants since they are not a harmful pest. But the truth is that sprays could only make the problem worse. When you spray ant killer, you are only deterring ants from foraging on that specific path, you are not eliminating the colony, which is where the real problem rests. Sprays make it harder to identify where the colony is, thus making elimination harder.
So next time you spot a trail of ants, instead of reaching for the spray, reach for the phone and contact Schendel Pest Services. Sometimes preventative measures are simply not enough to the keep the pests away so if you find yourself dealing with ants in Kansas City, Topeka, and Schendel's other service areas, trust Schendel to resolve your problem!