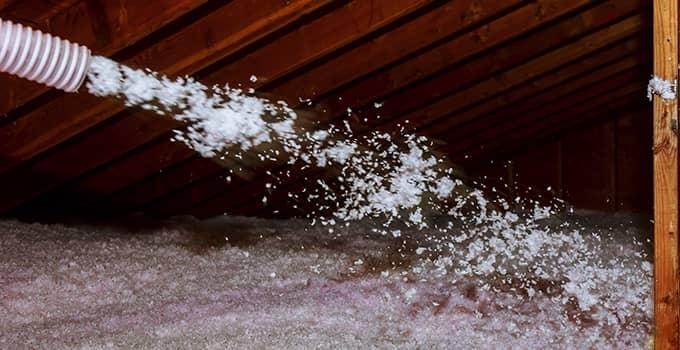 How Pest Control Insulation Works
12/19/2018
Winter is officially here. You might be reminded of this every time you walk by a particularly drafty window or door in your house. While these areas of your house can be the biggest areas of heat loss, the fact is, if your home isn't properly insulated, you could be losing heat (and money!) from spots all over your house.
A properly insulated home has many benefits other than heat retention:
It not only keeps heat in during the colder months, but it also keeps heat out during hot summer days.
It keeps pipes from freezing in the winter.
It prevents heat from escaping through tiny holes which can attract rodents and other animals into your home.
It prevents snow build-up and ice dams that can damage your roof or gutters.
Damaged roofs caused by insufficient insulation can cause leaks in the attic. These leaks can lead to costly water damage or even mold problems within the attic and walls of your house.
It's clear that a properly insulated home is of vital importance. If you're building a new home that's in need of insulation or if you're planning to re-insulate your current home, you may want to consider using pest control insulation.
Pest control insulation has several benefits over regular insulation. It works just as well as other insulation while offering some additional perks.
Pest control insulation from Schendel Pest Services is Energy Star rated and made from materials that are 87% recycled. That means it's efficient and good for the environment.
Pest control insulation from Schendel Pest Services is fire-resistant. This will slow the spread of fire in the case of a house fire, giving you a better chance of leaving the house safely and causing less damage before the fire can be put out.
Pest control insulation from Schendel Pest Services is long-lasting. Compared to regular fiberglass insulation, our pest control insulation breaks down much more slowly, which keeps costs down for you.
Finally, there's the reason that gave pest control insulation its name. Schendel Pest Services pest control insulation contains borates. While safe for humans, borates are lethal for a number of insects. Think of the peace of mind you'll have in knowing that even if an insect somehow manages to get past any other pest control barriers that you've set up, they won't get far once inside.
If you've already been considering new insulation, call Schendel Pest Services for more information about pest control insulation. For even better pest protection, consider pairing our insulation with one of our year-round pest protection programs. Schendel can keep your family, pets, and home safe.