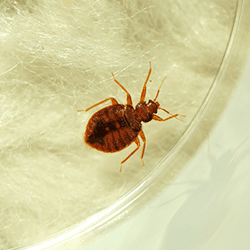 Summer Bed Bug Tips
7/19/2017
Summer is the time for vacations across state lines, overseas, and even down the street. Whether you are taking a staycation, you are going on a cruise, or you have big plans overseas, you are not alone on vacation. Bed bugs will join you and want to go home with you as well. Here are the best bed bug tips for summer so you don't have to bunk with these pests.
Bed Bug Infestations Surge in the Summer
Many bugs become more active in the summer. They reproduce in the spring and have babies in the summer. As a result, bug populations explode in the summer and make it miserable. But that is not why you are at an increased risk for bed bugs in your home.
Bed bugs are more active in the summer because they have more opportunities to travel. In the summer, more people move around, stay in hotels, visit friends, and rent homes. The luggage gets dropped to the floor or on the bed, making it easy for bed bugs to slip right in. You could stay for a week or three and bed bugs would still survive.
When bed bugs reproduce, it only takes weeks for the young to become fully grown adults, thanks to the warm temperatures.
Let's not forget that yard sales, swap meets, and flea markets are on the rise when it's warmer too. Bed bugs can hide in bags, couches, chairs, dressers, and desks – when the new-to-you items enter your home, so do the bed bugs hiding in them.
Avoid Bed Bugs While Traveling
To avoid bed bugs while you travel, be on the lookout and practice prevention habits to keep bed bugs from hitching a ride to your house.
Pull up the bedding to inspect the bed and mattress seams for signs of bed bugs.

Examine headboards and other furniture for small specs that look like apple seeds or poppy seeds.

A bed bug infested room often smells musty and bitter.

Inspect your body for small bites, usually in a cluster of three, when you wake in the morning.
What Happens if You Bring Home Bed Bugs?
Bed bugs are difficult to spot. When you are having fun on vacation, the last thing on your mind is where you put your suitcase in the room or whether or not you inspected the sheets every night. Even if you did, bed bugs can still sneak by and climb into your luggage, leaving you with a bed bug infestation in your home. If you bring bed bugs home with you, call Schendel Pest Services for a thorough inspection and effective bed bug treatment to get rid of the blood-sucking tourists. Schendel Pest does an inspection and heat treatment so you can finally relax when you get home from vacation. Start your free bed bug inspection quote online today.