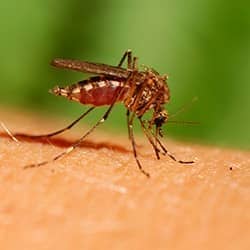 Never Too Early To Think About Mosquito Control
3/29/2017
Spring is finally here! It is safe to say that most of us are glad to see the end of the cold and snow for another year. Even the most avid winter lovers are generally happy to see it end so they can begin the warmer weather outdoor activities that they love, whether that is hiking, swimming, baseball, or just backyard barbecues with family and friends. There are some problems, however, that come every spring and remain a problem until the cold weather kills them off for another season. Mosquitoes!
Since the dawn of time it seems that the mosquito has been a constant companion to any warm-blooded creature that it can find as soon as the weather is warm enough. Every one of us has experienced a warm evening on the patio, a cold drink in one hand, and slapping away at these pesky parasites with the other. The next day, the family is left with itchy, red reminders of the night's activities that could last for days. These are not the lasting memories that any of us want.
Unfortunately, there are worse things that can come from this battle with the dreaded mosquito. These pests are well-known carriers of several diseases that can impact a family for life. Disease including West Nile virus, yellow fever, Saint Louis encephalitis, and the more recently discovered Zika virus that has made its way from South America to the United States. Many of us do not have these potentially harmful diseases in mind when we sit down on that patio, but that doesn't make the threat less real.
Through the years, Americans have used a multitude of ways to try to keep these annoying pests away. Bug sprays, candles, campfires, and mosquito netting can help. But, at last, pest control experts like Schendel Pest Services have discovered a way to finally protect the home and yard from these potentially dangerous pests during the warm months. Schendel Pest Services offers an innovative mosquito control program designed for yards of any size, whether it is the yard at home or at a commercial property, to not only deter mosquitoes but to eliminate them for weeks, protecting guests at an event or keeping your yard safe for everyday use.
Schendel Pest Services has been protecting area homes and businesses from invasive and dangerous pests for decades. We are committed to keeping our client's homes and yards safe for the families that live there no matter what the season brings. Our knowledgeable staff is dedicated to bringing the latest and most effective environmentally friendly products to your property to safely remove the threat of mosquitoes giving your family back their yard and giving you back your peace of mind.