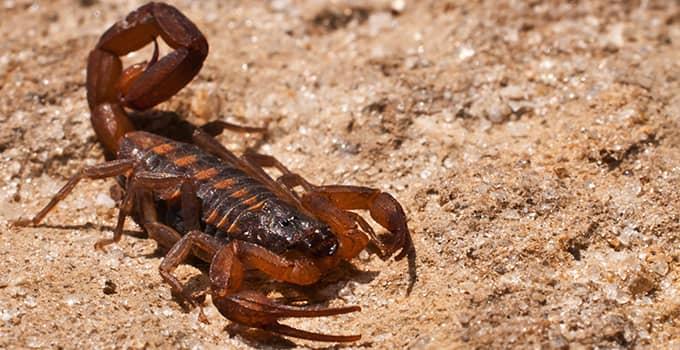 Are Bark Scorpions Still Active In Glendale?
9/26/2018
Yes. In September, temperatures in Glendale can be between 75 and 100 degrees Fahrenheit. These temperatures are more than high enough for bark scorpions to be active. But, in October and November, when the temperature can drop to as low as 52 degrees, bark scorpions, which are happy to get into our homes any time of the year, are even happier to come in. This can be a serious problem since bark scorpions can develop into packs of 20 to 30 scorpions during winter months. If you're not familiar with what a bark scorpion is or how to prevent a scorpion sting, follow the hyperlinks to learn more. In this article, we'll be focusing on why professional control is the best way to go.
5 Reasons To Call A Professional
Bark scorpions are the most venomous species of scorpion in the Southwestern United States. Not only is a sting from one of these scorpions going to cause severe localized pain, but it can also lead to serious symptoms, especially for children, elderly people, and individuals with a compromised immune system.
Scorpions can be difficult to keep out of a home because they can climb vertical surfaces and squeeze through a gap as small as ⅙ of an inch.
Newborn scorpions, which are more venomous than adults, can slip through even smaller gaps. This is because immature scorpions aren't able to control the amount of venom they inject.
Bark scorpions hide in holes and wall voids and come out at night. This makes them a serious hazard inside a home. If you've seen these insects in your home, be sure to wear slippers or shoes when walking around at night.
A professional doesn't wait until bark scorpions are an issue inside your home. With routine, quarterly service visits and exterior treatments to your foundation perimeter, a professional can help you reduce the chances of scorpions invading your home when temperature drop in the fall months (or any time of year). and, when you invest in year-round pest control, you get protection from all of the other dangerous and destructive pests we have in Arizona.
For control of scorpions and other harmful pests, consider Premium Care or Premium Care+ from Schendel Pest Services. We also provide a Home Seal & Scorpion Guard service specifically designed to give homes what they need to guard against fall scorpion invasions. Learn more about these services by going here.