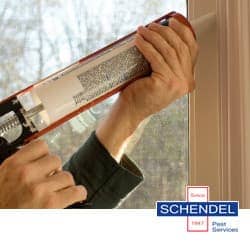 Kansas Home Sealing Services To Keep Pests Out
3/22/2013
Flies, rodents and other critters were not meant to dwell in your home or share space with your family. And while they may have found all they need for their survival inside your house – food, water and shelter – this does not mean that they are welcome. The best way to prevent and avoid pest infestations is to make sure that they are not allowed inside in the first place. We know that homeowners do not intentionally invite pests into the home but there are many ways that homeowners are unknowingly allowing pests to enter. The biggest threat…a home that is not properly sealed.
At Schendel Pest Services we have seen and corrected numerous pest problems with our Home Sealing Services in Kansas. You see, any crack, hole, crevice or other opening is enough to welcome in some form of a pest intruder. In fact ants, cockroaches, mice, flies, and even larger pests like wildlife can all find their way inside if the home is not properly sealed. The areas that are most prone to pests include:
Cracks or gaps along the window frames

Openings around the door frames

Cracks along the foundation

Gaps from where cables and vents enter the home

Broken or torn window screens
Especially now that we are officially in the spring season, it is a good idea to take some time as a part of a spring-cleaning effort and check around the home for any possible openings. But keep in mind, it is not always easy to spot little cracks and holes which is why our team of KS pest control pros can deliver the peace of mind that you are not allowing open doors for pests with our home sealing services.
If you are living in Topeka, Kansas City, or elsewhere in our residential service area, please contact Schendel Pest Services today and ask about our Home Seal and Scorpion Guard services. Remember, spring pests are here! Make sure that you aren't letting them in.