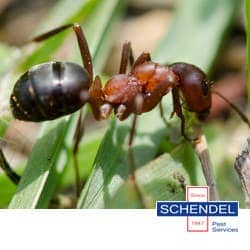 Stop Ants In Topeka, Kansas City And Midwest
6/12/2014
It turns out that June is turning out to be an ant kind of month around here. Really that's not too surprising as now is the time when pesky little ants make their appearance in homes and businesses. The weather forecast for Kansas City is showing lots of warm weather and that's exactly what will get these pests moving. This means that your kitchen (and the rest of your home) could become a target for hungry ants.
Not only are ants a major nuisance, some species (carpenter ants) actually cause extensive structural damage if not treated. While some types of ants are more concerning than others, really none are welcome in your home. The most common mistake that homeowners make is attempting to get rid of ants on their own with store bought sprays. Not only will you still see ants, it will be even harder to locate the source of their colony.
In order to help protect your home from pests follow these steps for ant prevention:
Make sure your window screens are free of rips and tears. Likewise screen doors should not have any holes.

Cut back bushes and shrubs so they are not touching the side of your home and creating a bridge of sorts.

Seal off holes or cracks on the exterior of your home.

You know the saying "Her kitchen is so clean you could eat off the floor"? Aim for this level of cleanliness. Grease, crumbs and spills attract ants and other pests.

Practice proper food storage, keeping open packages off the counters and using containers with tight fitting lids.

Always continue with your routine pest control services.
Watching all those marching ants in the kitchen can be annoying but you can win the battle against these pests. And if they sneak past your defense, give us a shout. Our team of pest control professionals have the tools, knowledge and experience to exterminate your ant problem including the entire colony.
Schendel Pest Services offers comprehensive pest control in Topeka, Kansas City and throughout several states. Click here to see our service area.
This blog was originally published on May 25, 2012, but we have updated it to reflect the most recent and accurate information available in helping you prevent and combat frustrating ant problems.