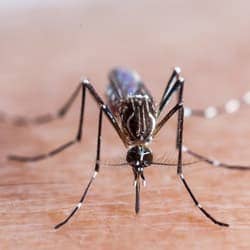 Summer Gatherings And Mosquitoes
7/8/2016
There is no better time of year to get together with friends or family than the months of summer. What do you typically do? Is your backyard for having cookouts on the grill or cooking hot dogs and marshmallows on a fire pit? Do you have small gatherings or parties? Does your summer fun revolve around a pool or a pond? Is your property big enough for some 4-wheeling? Whatever you do outside during the summer, it's going to be a whole lot more fun, and a whole lot safer, with mosquito services.
Mosquitoes aren't just annoying pests; these insects are direct vectors for diseases like West Nile virus, which infects thousands each year and is connected to hundreds of deaths. The population most at risk for serious effects from this disease is the elderly and those who have immune system problems, but this is a virus that can be life-threatening for anyone.
What is most sinister about mosquito-borne viruses is the lack of public awareness. Often, people contract viruses from mosquito bites and don't even realize their sickness came from the bite. These viruses are most often mistaken for the flu or the common cold until the severity of the illness results in a visit to the hospital.
If you intend to have summer gatherings in your yard, consider getting mosquito abatement services from a reliable pest control specialist. While mosquito abatement isn't 100% protection from mosquitoes, it can have an impact; and you won't only be protecting your family and the people who come to your gatherings; you'll be protecting your neighbors and your community.
Our government already uses mosquito abatement as a front line defense against infectious, mosquito-borne diseases because mosquito prevention is the key to preventing bites and managing disease, but this effective solution is made even more effective when homes and businesses take part.
At Schendel Pest Services, we take mosquito abatement very seriously. Our mosquito services include a new, revolutionary system that doesn't just repel mosquitoes; it draws them in and kills them. This is a paradigm shift in mosquito control.
It doesn't matter how big your outdoor area is, our team can tackle it. We treat everything from small homes to large recreational areas. If you own a restaurant, and you have a little outdoor eating area, we can make that area a nicer place for your customers. If you have a large park or golf course – it's not a problem. We provide services for homes, apartment complexes, schools, recreational areas, commercial properties, homeowners associations, weddings, other outdoor events, and more.
If you are planning on having a summer gathering or spending time in your backyard consider getting mosquito abatement services for your property. If you live in Kansas, call the experts here at Schendel Pest Services. Mosquito abatement just got better. Let us show you how great life is with fewer mosquitoes.