Superior Pest Protection For Leavenworth, KS
Leavenworth, Kansas, located on the western bank of the Missouri River, is a thriving community with deep roots. As the first incorporated city in Kansas, Leavenworth served as a supply base for those heading out to settle the West and has remained a vital part of Kansas ever since. Some of the historical buildings from that era remain today, while others are long gone leaving behind only the ground that they once stood on. Today, it is important to maintain the pieces of history that we have left here from the ravages of time and the effects of damage, just like it is important to protect the integrity of newer structures.
Part of that care requires that a reliable year-round pest protection plan be put in place. Rodents, termites, and other pests can cause extensive damage to the structure of a building, no matter how young or how old it is; and pests like rodents and cockroaches can carry and transmit dangerous diseases to people and pets. Keeping our community safe from the effects of pests is a job for highly trained professionals like those here at Schendel Pest Services that understand the habits and habitats of pests, have the tools to intervene, and understand how to correctly mix and use materials. For the past 70 years, we have been effectively controlling pest pressures and have gained valuable insight into local pest pressures. Our pest professionals have access to the latest technologies, tools, and safety equipment to ensure that every pest pressure is quickly and efficiently eliminated. To learn more about our comprehensive residential or commercial year-round plans or any of our other industry-leading pest control solutions for your Leavenworth home or business, contact us today.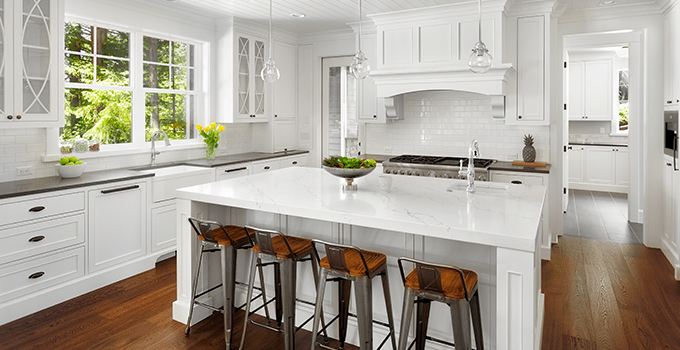 Home Pest Control In Leavenworth, KS
Protecting your Leavenworth home and your family from harm is your top priority and there seems a never-ending list of responsibilities to ensure that safety. Make sure that you are not overlooking the threat to your home and your family that comes when pests invade. Many pests are damaging to your home. Mice, rats, squirrels, and more can damage the structure of your home, contaminate food supplies, and destroy treasured keepsakes; and termites will silently eat away at the support structures deep inside your walls. Rodents, roaches, mosquitoes, and many more can carry and transmit some pretty serious illnesses to people and pets. Even so, sometimes this threat is put at the bottom of your list or ignored, which greatly increases the chances that you will experience harmful consequences from pests.
Schendel Pest Services has developed our comprehensive 7-point Premium Care program to keep your Leavenworth home safe from pests all year long. Guaranteed! Our highly trained experts will start with an intensive interior and exterior service and will follow with quarterly visits thereafter. Unless, of course, pests return between visits, in which case additional service will be performed at no additional charge to you. It's all part of our PestZero Guarantee!
Here's what you can expect from our 7-point Premium Care program:
1.      Point 1 – bait is applied around the perimeter of your home and among rocks and plants nearby to control ants, crickets, and ground beetles.
2.      Point 2 – granular repellent is spread in areas away from and adjacent to your home to control ants, spiders, and other occasional invading insects.
3.      Point 3 – liquid repellent is applied around doors and windows and under eaves to control ants, spiders, flies, and flying insects.
4.      Point 4 – Safe, effective, approved product is applied in targeted areas on the inside of your home to control spiders, wasps, and silverfish.
5.      Point 5 – dust is injected into wall voids, behind switch plates, kick plates, electrical outlet covers and plumbing entrances to control ants, roaches, spiders, and firebrats.
6.      Point 6 – bait is applied under appliances and in cabinets along with monitoring devices that will be discreetly placed in target areas to help control ants, roaches, and rodents.
7.      Point 7 – Integrated pest management procedures are put in place quarterly to prevent any new activity with ants, flies, spiders, crickets, and beetles.
For more information about our comprehensive year-round Premium Care program or any of our other industry-leading pest control solutions for your Leavenworth home, give us a call today.
Commercial Pest Control In Leavenworth, Kansas
One of the most important things that you can do to ensure the viability and longevity of your Leavenworth business is to protect your product from harm and your reputation from being tarnished. This is no easy task in today's world of instant news and social media. All it takes for you to tarnish your name is the sighting of a pest in your commercial environment. The commercial pest control specialists here at Schendel Pest Services understand this very basic principle and they've got you covered. Our commercial experts go through extensive and ongoing training to ensure that they understand all the intricate details involved in the regulations that have been set for pests and pest control in your particular industry. Armed with that understanding, they will work with you to develop a personalized pest protection plan that will meet or exceed these standards. Not only will pests be kept away from your business, but the proper documentation will be kept and our lines of communication will always be open. If you are looking for effective, consistent pest control services for your Leavenworth business, here are some of the quality services we can provide:
Leavenworth, KS Bed Bug Control
Bed bug infestations are on the rise; and they are one of the most difficult pests to eradicate, especially without professional help. They are expert hitchhikers and can easily travel undetected from place to place. They can be picked up on a plane, in a taxi, or on a bus. They have been transported home from the library, the hospital, the hotel, and the dorm. Anywhere that people frequent is a high-risk area when it comes to picking up bed bugs. Once they arrive in your Leavenworth home or business, they will hide in some pretty hard to reach areas like behind electrical outlets, inside stereo equipment, inside televisions, and in any other tiny nook or cranny that they can find, and only sneak out to feed when they feel it is safe – typically at night. The problem is that these pests can go months without feeding and will stay hidden during that time, laying eggs the whole while. DIY products just don't have the reach to kill every single bed bug and egg in your home which is what is required to completely eliminate them but the bed bug experts here at Schendel Pest Services do. We offer canine bed bug inspections, which is a non-invasive fool-proof way to find exactly where the bed bugs – and the eggs – are.  Next, we are equipped to do a targeted treatment of the area, or we may decide that heat treatment is required. Heat treatments are the least invasive, most eco-friendly, and most effective way to eliminate all stages of bed bugs; and it typically only takes a day! The best part is that heat is absolutely safe when administered and monitored by trained professionals, and it is completely effective at eliminating bed bugs in all stages of development. Now that's efficient! To learn more about our effective bed bug program for your Leavenworth home or business or to schedule your bed bug inspection contact Schendel Pest Services today.
Why Choose Schendel Pest Services
The reason why so many have chosen to partner with Schendel Pest Services for effective, affordable pest control services is that we have the vision "to be the most respected PCO in our markets…respected by our customers, co-workers, and competitors." The reason why so many have chosen to stay with us is because we work to fulfill that vision each day with superior customer service and adherence to the values of honesty and integrity that have helped us to thrive in the pest control industry for more than 70 years. We stand loyal to our clientele and to our vendors and never cut corners. All our services are met in a safe, legal, and ethical manner. Period! Go ahead; take a look. Ask around, and talk to some of our customers. Then give us a call to set up your initial inspection so you, too, can experience the Schendel difference.