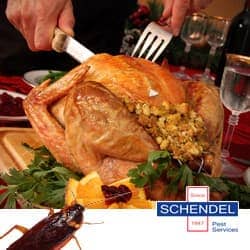 How To Keep Cockroaches Out Of Your Holiday Plans
11/6/2013
No one asks for roaches for Christmas, so why do these pests keep popping up inside our homes during the holidays? Unfortunately, roaches during the holiday season are a common problem that our professionals encounter. With all the excess food inside our homes as well as the larger amounts of refuse we create, these pests know they can find a good time inside our homes during the holidays. And when you're busy wrapping presents, cooking meals and entertaining friends and family, the last thing you want to worry about is a cockroach infestation! Luckily for the clients of Schendel Pest Services, they don't have to worry about cockroaches crashing their holiday get-togethers! Our Premium Care customers are protected year round from pests like cockroaches, so they can concentrate on the more important things in life!
Wondering about cockroaches? Here are some cockroach facts that will help you to see why these pests don't make very good holiday visitors!
Cockroaches spread diseases. They spend a lot of time in moist environments, including drains, sewers and garbage piles. In these places they pick up pathogens and bacteria, which stick to the spines on their legs and bodies. These germs are then transferred to any surfaces they touch inside our homes as well as the food we eat! This can cause any number of gastroenteritis symptoms, which can result in family members getting sick from 'food poisoning' or having very bad diarrhea. No one wants to think back and remember the holiday when everyone spent the majority of time in the bathroom thanks to the germs spread by cockroaches in your home!
Cockroaches can cause allergies and even asthma in young children and some cockroaches are known for secreting odorous liquids from their bodies, which can result in a characteristic odor in highly infested areas.
The most common species in Kansas City include the German cockroach and the American cockroach. The German cockroach is very common and ranges from ¼ of an inch to 5/8 of an inch long. They are light brown or tan in color and have two dark stripes on their backs. The American cockroach is found both indoors and outdoors and is larger, at about 1 to 1 ½ inches long and is reddish brown in color.
Cockroaches are great at hiding! Eliminating these bugs on your own can be a challenge, because although you may try to kill all the bugs you see, the chances are good that there are many more hiding around your home that you can't see.
Roaches are attracted to food sources within your home, as well as moisture. Leaving food out on countertops and letting trash sit inside your home can attract these pests and allow them to thrive.
The best way to prevent cockroaches (along with thorough sanitation measures taken throughout your home) is to enlist the help of a pest control professional in Kansas.
When it comes to Kansas City pest control, natives will tell you that choosing Schendel is the best choice. Our Premium Care program provides 365 days of Protection a year, guaranteed! Through intensive interior and exterior service and quarterly visits to check for further pest problems, we combine treatment with prevention efforts to eliminate pests and keep them from becoming a problem. Contact us today to learn more about our year round pest control, cockroach control or any other services we offer!