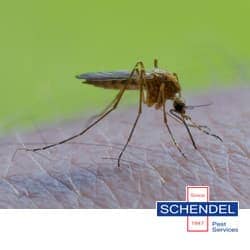 Mosquitoes: The Uninvited Summer Guests
7/14/2012
Summer is all about being outside and taking advantage of the longer, warmer days. But putting a serious damper to our summer fun are mosquitoes who are notorious for dropping in uninvited.  Many cookouts and outdoor events have been disrupted when mosquitoes decide to join the get together. And not only are they a major nuisance pest but mosquitoes can also carry serious diseases which make them a pest threat to watch out for this summer.
It is nearly impossible to completely prevent mosquitoes from touching down on your property but it is possible to reduce their numbers by correcting conditions around the home that attract them.   Eliminating breeding spots can go a long ways in terms of mosquito control and that happens when you remove any standing water.  To that end, we've identified a few ways KS homeowners can prevent mosquitoes from crashing the party this summer:
Remove any stagnant water from the property in places such as cans, plant pots, and toys.

Clean out gutters so that water does not collect with debris.

Make sure ditches have flowing water rather than stagnant water.

Change the water in bird baths regularly.

Fill in any holes around the property that collect with water after rain fall.
If these prevention tips are not enough to control the mosquitoes on your property then it is time to call in the professionals! Offering Kansas City pest control and pest management throughout Kansas and our large service area, Schendel Pest Services provides effective treatments for mosquitoes including:
Barrier treatments

Larvacide

Breeding source reduction
Whether you have a big outdoor event coming up or if you are just looking for some relief from the mosquitoes this summer, please contact Schendel Pest Services today.