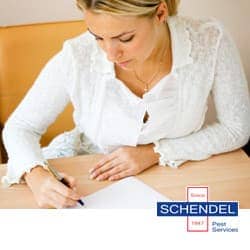 Looking For Your Feedback
1/25/2012
At Schendel Pest Services, we take pride in providing comprehensive pest control solutions for your home and business. With over 60 years of experience, we are always looking for ways to improve our pest control services and hear from our loyal customers. We would like to hear your success stories or ways that we could improve our service to you. To all of our residents in Kansas City, Topeka, Branson, and throughout our service areas, here are some ways that you can review your experiences with Schendel Pest Services.
Please take a moment and follow the link to one or all of the review sites to leave your review:
We greatly appreciate your time spent to leave us a review. From all of us at Schendel Pest Services, thank you! If you would like any information on pest control services in Kansas City or elsewhere in Kansas, Missouri, Oklahoma, Arkansas and Arizona service areas, contact us today.